Best Puzzles for 1 Year Olds
and Toddlers!


It isn't easy finding suitable puzzles for 1 year olds and toddlers! I have had lots of parents writing to me to ask which puzzles are best for this age group, so I have rounded up a variety of resources that are very similar to the ones I used with my own toddlers years ago.
Remember, each child develops at his or her own pace, so be guided by your child's maturity.

1 and 2 year olds have a very short attention span, and are driven by exploring their environment. Let these puzzles form part of their daily environment.

Toddlers are naturally drawn to whatever their caregiver is doing, so use that to your advantage. If you play with the puzzle yourself on the floor, your toddler will probably want to join in, so make a game of putting the pieces together!
This page contains affiliate links (#Ad) - I may receive a small commission if you purchase something through these links, which helps support this site. However, you are under no obligation to purchase anything!

One Piece Puzzles for 1 Year Olds

One piece puzzles require the placing of a single piece to make a picture complete. They are super-hard to find and I was thrilled to find these lovely puzzles for 1 year olds by Banana Panda!
The first set requires your baby to simply put a circle into the hole to complete the picture.
Once your child has mastered that, then try the second set, which requires your child to place a square or triangle shape in the hole to complete the picture.
Placing a square or triangle is a little trickier than placing a circle, which is why this puzzle is designed for 18 months+. Their little hands and arms need to be able to orientate the shape to get the corners to fit in, which is harder than putting a circle into place.

However, I believe that
Shape Sorters
#Ad
and
Peg Puzzles
#Ad
, where a piece is fitted into a hole, can also be used in the same way as one piece puzzles, and develop the same skills. If your child is overwhelmed by all the shapes available, just do one or two shapes at a time.
A personalized wooden name puzzle is a really lovely gift idea - toddlers get a lot of joy from putting their name together in a peg-puzzle, and often play with it well into their childhood!

You can order these directly from Crawoo #Ad, who ship worldwide!
You may find these baby puzzles and other similar resources, at rummage sales and local baby stores.
Two Piece Puzzles
If you cannot see the images of the products I am describing, then your browser may be blocking the images with an adblocker. However the links to view the products on Amazon should still work.

These lovely two-piece puzzles will introduce toddlers to the concept of putting a picture together. Preschoolers who can't do puzzles can also benefit from going back to these basic puzzles and working on their skills.
Toddlers get soooooo much satisfaction out of completing the pictures. Start by giving just one puzzle at a time. The beauty of these sets of puzzles for 1 year olds, is that there are a number of different two-piece puzzles in each box, so your toddler will get lots and lots of practice at completing pictures.

ToyKraft have a lovely range of shaped two piece puzzles for 1 year olds. View their store on Amazon. #Ad


Four Piece Puzzles
OK, I really don't think four piece puzzles are going to work for a 1 year old! But an advanced 2 year old will probably be wanting to try some!
This is a pic of one of my toddlers attempting a 4 piece puzzle when he was 2 years old! He had lots and lots of practice with peg puzzles and two piece puzzles, so he understood how puzzles worked, and enjoyed the challenge of four piece puzzles.
I would usually orientate the pieces for him before he started, and then he just pushed them together to make the picture.

Many popular toddler puzzles come in a boxed set of mixed sizes containing a 4-piece, a 6-piece, and a 9 or 12-piece puzzle in the set.
However, mastering a single 4 piece puzzle does not mean your child will be ready to move on to the more complicated 6 and 12 piece puzzles in the same box - I personally find it is better for toddlers to try a few different 4 piece puzzles, before moving on to puzzles that are more challenging.
So look out for puzzle sets that have a few different four-piece puzzles in the box, or share a few puzzle sets with friends to give your child some variety.

Sets Of 4 x Four Piece Puzzles

Mixed Size Puzzle Sets

Benefits Of Puzzles For 1 Year Olds

There are lots of benefits to introducing your young child to simple puzzles: your child will get lots of practice developing essential visual perceptual skills, fine motor skills and visual motor skills.
These skills lay an important foundation for reading, writing and math when your child is older.
In addition, because puzzles can be done over and over again, your child will develop a sense of mastery and achievement in getting it right.
I have a whole page dedicated to showing parents how to help their toddlers to do puzzles, so do pop over and have a look if you need some tips and support.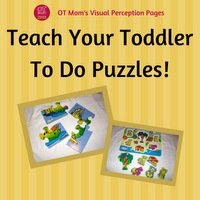 How to help your toddler do puzzles!
Thanks so much for visiting! I hope you found what you were looking for!
Remember, although I have linked to these products on Amazon to show you what is out there, you will probably be able to find similar puzzles in your local toy store or even at a yard sale!

Have fun doing puzzles with your little one!
If this page was helpful, please share it with your friends!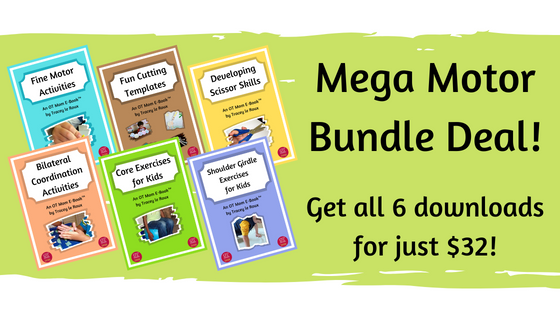 Didn't find what you were looking for? Try a search of my site!