Handwriting Heroes Letter Formation Printables
Handwriting Heroes

Printable Workbooks

The Handwriting Heroes program is the brainchild of Cheryl Bregman, an occupational therapist who is an expert in helping children develop good handwriting skills.
Handwriting Heroes expedites handwriting instruction and makes it interactive, fun, and easy to implement. Her printable workbooks are first class and I am privileged to sell them from my website.

Cheryl has also developed a range of memorable animations to help kids master letter formations. When you purchase one of the Handwriting Heroes workbooks from this page, you will also receive discounted access to the animated videos.

Please respect the copyright and the hard work of the author, and do not share these workbooks with others.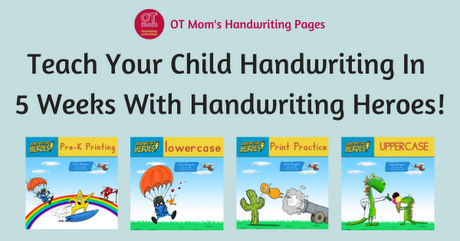 Pre-K Printing
Pre-K Printing introduces children to letter formation through captivating stories, hilarious animations, and catchy songs.
These multisensory techniques are suggested for each letter:
Finger Tracing
Your child can use the finger puppets (printables provided in the download) or the pointer finger to trace the letter 3 times.
Then say, "Which words start with this letter?" Help them to identify all the words in the image and the action words that start with that letter.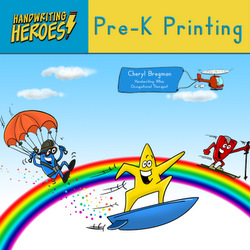 Rainbow Writing
Students follow the numbers and arrows to complete the letter using rainbow colors i.e. red, orange, yellow, and blue. Provide an assortment of writing tools including markers, crayons, and colored pencils.
Pokey Pin
Place the worksheet on a foam, cork or carpet square. Use a push pin to punch a hole into each dot along the letter path. Pin punching is great for building fine motor strength and for improving visual motor accuracy.
multi-sensory letter formation pages
Use the stories and rhymes behind each letter to help children remember how the letters are formed, and help reduce unnecessary letter reversals!
I have found these techniques to be immensely helpful in helping kids master letter formations.

Numbers Workbook

Learn how to form numbers 0 to 9 with number rhyme stories that group the numbers into three groups based on their formation.
The numbers 0 to 9 are grouped into three sets based on their formation. Stories with rhyming words and vivid imagery make it easy to recall the number forms.
Words that rhyme
And images sublime
Make it easy to learn
zero to nine!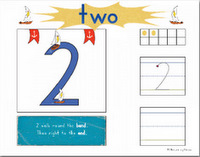 Lowercase Workbook
- My Favorite!
Use this workbook to teach your child handwriting in just 5 weeks!

Lower case letter formations are taught in "groups" of similarly formed letters. That means that 4 - 6 letters can be learned at a time, as they are formed in a similar way, thus reinforcing the formations.
On Mondays, you can introduce all the letters in a particular group and then review those letters from Tuesday to Friday.
Using the Lowercase Workbook, simply follow the outlined schedule to cover all the letter formations in just 5 weeks!
Kids love the multi-sensory activities, including animations, stories, action words, and songs, and you'll love how quickly they become writers.
Letters are sorted into five groups based on their first stroke and each letter has a whimsical story that explains WHY it is formed the way it is.
The workbook includes:
Guide for proper positioning
Teacher's guide
Lyrics for the five group songs

26 individual letter worksheets
8 summary worksheets
1 review worksheet
Action word summary sheet
Activity cards
Certificate of completion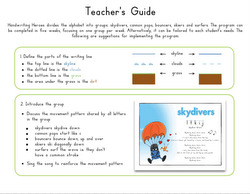 Laminate or place the worksheets in a dry-erase pocket for endless, carefree practice.
Print Practice  

Help children gain confidence by writing out short words (incl CVC and Dolch words) while emphasizing correct letter formations, pencil control and spacing.
Your child will first revise and refine the letter formations learned in the Lowercase Workbook. This helps to improve motor memory and fluency.
As your child practices short words, the focus is on gradually decreasing the size of the letters as your child develops better pencil control, adding appropriate spacing between words, and increasing handwriting speed.
Print Practice is divided into 38 lessons, with clusters of CVC and Dolch words. Students should complete 1 to 2 pages each day.
Section I: emphasizes correct letter formation and starting points.
Section II: focuses on decreasing the size of letters as students develop better pencil control, the correct spacing between words, and improving handwriting speed. Students copy phrases that gradually increase from two to four-words using the strategy of "measuring" the required space between words by "linking three clouds" and later by guesstimating the appropriate spacing.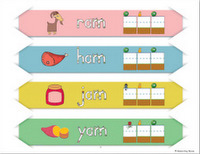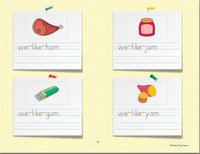 Print Practice provides systematic instruction and guided practice, in multiple formats. Just 10 to 15 minutes of daily practice can help kids master handwriting with confidence!

Uppercase Workbook
The Handwriting Heroes Uppercase Workbook teaches uppercase letters in relation to their lowercase counterparts.
Students finger-trace the large letter model, and then practice writing uppercase, lowercase, and a fun alliterative sentence.
There are two practice pages for each alphabet letter that includes a large model of the letters with directional arrows for finger tracing, and areas for writing the individual letters, words starting with those letters and a fun alliterative sentence which relates to the cartoon image.
Double Trouble Letters: Cc Oo Ss Vv Ws Xx Zxz
These uppercase letters have identical formations to their lowercase counterparts. Starting with these letters will immediately boost your students' confidence.
Super Similar Letters: Bb Ff Hh Ii Jj Kk Ll Pp Tt Uu Yy
The differences between these upper and lower case letters are quite subtle. With the exception of "Ff", they share the same starting stroke.
Encourage students to assess the similarities and differences between these letters so that they become more aware of line placement and the specific motor patterns used to form the letters.
Dangerously Different Letters: Aa Dd Ee Gg Mm Nn Qq Rr
These uppercase letters bear little to no resemblance to their lowercase mates. Therefore, it is recommended that the student spend additional time practicing these letters.
Handwriting Heroes Three-Lined Handwriting Paper

(In Landscape and Portrait Orientation)

Lined-paper provides students with key information on where to start and end their letters. As students develop a more refined pencil grasp, their letters get smaller in size.
It is important to match the students' letter size to the width of the line. Writing lines that are too wide causes students to "draw" their letters in order to fit the lines. This results in slower, less automatic letter formation.
The "Line Picker" Assessment Tool allows one to quickly assess which line width is right for each student.
This packet contains Handwriting Heroes' unique sky-clouds-grass (SCG) writing paper and three-lined writing paper in three widths (small, medium, and large), in portrait and landscape, in five design layouts:
writing lines with picture box
a full page of writing lines
two columns of lines
three columns of lines
four boxes with lines (cut or fold along the dotted line)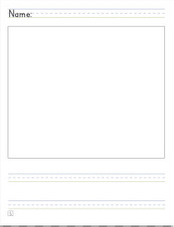 Bundled Workbooks Discounted by 10%

---
---
How To Use These Handwriting Heroes Digital Workbooks

You are allowed to print as many copies of these digital workbooks as you need for the children in your OWN family, classroom or therapy room, so they are great value for money. I have tried all these e-books myself and believe they are well worth the tiny investment if you want to improve your child's handwriting skills.
When you click on the "Add to Cart" buttons, you will be taken to my shopping cart.  Once your order is complete and paid for, then you will be able to download the workbooks immediately from the screen, or from an email containing download links. These digital workbooks come in PDF format. Save them to your device and then print out the pages as and when you need them. Please feel free to contact me if you encounter any difficulties with the downloading.

Thank you for supporting my site and Handwriting Heroes! I hope you find these workbooks to be amazingly helpful in helping your child master handwriting!

Handwriting Heroes Letter Formation Printables
If this page was helpful, please share it with your friends!

Related Pages
Didn't find what you were looking for? Try a search of my site!