Fine Motor Activities E-Book

How To Support Your Child's
Fine Motor Skills Development

Do you want to support your child's fine motor skills development?
Do you need help to figure out where to start?
Do you want practical activities to develop your child's fine motor skills?
Are you tired of lists of activities that don't tell you HOW to do the activities?
Are you tired of surfing the web looking for ideas?

This E-Book gives you photographed activities you can really use!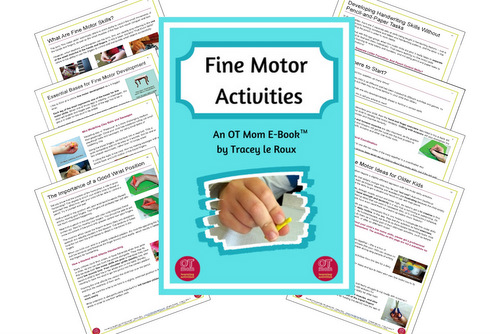 You will receive more than 24 pages of photographed fine motor activities that cover the following aspects of fine motor skills development:
Hand strengthening exercises
Activities to improve in-hand manipulation skills
Activities to help your child work on the finger skills needed to control a pencil
Activities to help boost pencil control, including 2 pages of pencil control spirals
Activities to promote better wrist positioning
Activities to help thumbs to get more active
Fine motor activities with playdough
Fine motor ideas for older kids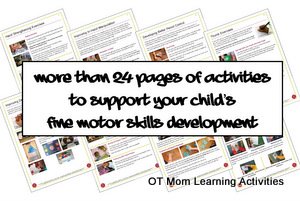 The Appendices contain a small selection of shoulder girdle and core exercises, touch perception activities and bilateral coordination activities sourced from my site.

In addition, there are tips, activities, a goal planner, and an activity planner to help you plan how to support your child's fine motor skills development in your own family's routine.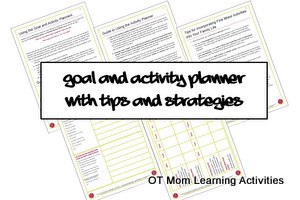 Although much of the information is available on my website if you search through all my articles, my E-book provides you with all the information at your fingertips in an easily accessible, printable download!
There are quite a few activities and tips that are only found in my e-book, while the Goal and Activity Planners are only available to e-book purchasers.

How were these activities chosen?
While working as a pediatric OT, I had years of experience working with kids in private practice and local schools as well as in impoverished communities. Many of those children struggled with fine motor tasks, and these simple activities have been beneficial in helping them develop their fine motor skills.
In addition, as a homeschool mom of 3, I used (and continue to use) these activities with my own children!

As with all the activities on my website, real-life photos accompany the instructions.
How To Use This E-Book
Your e-book comes in a secure PDF format, which you can save on your device. You can choose whether to read it on your device, or print out the pages you want to have on hand. You can even just print out the goal and activity planners, and keep the rest of the download on your device for reference. 
Depending on your child's skill level, the activities could be used by preschoolers, kindergarten and early elementary children. I also give suggestions for activities that would be suitable for older kids who need some support in various areas of fine motor skills development.
I also have separate resources that specifically address scissor cutting skills and pencil grip, so please do take a look at those if you need more information specific to those topics.
Buying The Fine Motor Activities E-Book

Use your credit card to pay securely via PayPal, or pay with your PayPal account. You will receive the download links by email shortly after payment.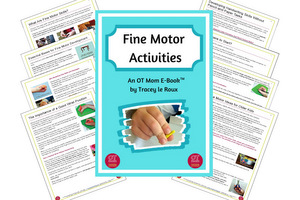 More than 24 Pages Of Photographed Activities Plus Much More!
Back to Top
Testimonials

"[OT Mom's Fine Motor Activities] is exactly what a parent would want. I like to understand what I'm dealing with - I like to have as much information as possible: the whys, the whens, the wheres etc and not just the hows.
You've got a fantastic product here and it's very useful for people like me."
Taryn Hayes
Cape Town
Homeschooling mother of 4
www.hayesfamily.co.za

"My 5-year-old son has severe developmental delays on almost every level, and it has been recommended that he attend special schooling. As there is a waiting list, I decided to help my son in any way I could until such time he was placed, as I feel that early intervention is crucial. In my search for information, I found OT Mom's website and I am so very glad that I did!
OT Mom's Fine Motor e-book in particular is wonderful. It gives a wealth of information on how to help my son with strengthening fine motor skills. The lay-out is easy to follow and logical, with none of the sometimes complicated medical jargon other professionals use. Each activity is beautifully illustrated with colorful photographs and it is such fun trying these various activities with my son. I can already see an improvement in his skills and as a result his self-confidence is blossoming!
I cannot thank Tracey enough for making her e-book available to all parents and I would hugely recommend to anyone who might need it...in fact, I already have!"
Yolanda, mother of four
South Africa

Got Questions?
Pop over to my E-Book FAQ page for comprehensive answers to questions regarding payment, downloading, use of the e-books and troubleshooting.
None of the OT Mom E-Books TM serve as a substitute for an occupational therapy evaluation and treatment. Please read my E-Book Disclaimer for further details.
All OT Mom E-Books TM Come With A

Guarantee

! If you're not satisfied with your e-book purchase(s), just email me within 2 weeks of your date of purchase and explain why you are not satisfied - and I'll issue your 100% refund within a week.
Your e-book purchase is 100% safe and secure - and 100% risk-free.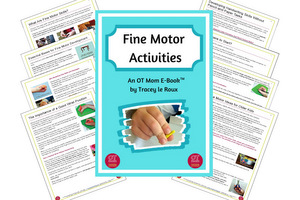 More than 24 Pages Of Photographed Activities Plus Much More!
More Resources for Fine Motor Skills Development

Owing to popular demand, the pencil grip information that was in the previous edition of my fine motor e-book, has been collated and expanded into its own resource. You can access my Pencil Grip E-Book as well as my Scissor Skills E-Books by clicking on the images below.

This E-book is available at a discount in these Bundle Deals:

Thank you for your interest in my resources!

Fine Motor Activities E-Book
Fine Motor Activities E-Book
If this page was helpful, please share it with your friends!