Wrist Exercises for Kids

Viewing this page on your device?
Please adjust your settings to enable images!
I use small photos to illustrate the information and activities that I share, and you will have a much better experience on this website if you can view the images.

These simple wrist exercises for kids can improve your child's fine motor skills and have a positive effect on handwriting. Wrist strengthening activities are easy to do at home with children from preschool through early elementary, and left-handed children can particularly benefit.
The exercises and activities aim to improve your child's wrist extension and wrist stability.
Wrist extension means that the wrist is bent slightly upwards, which leads to better control of the finger muscles. Read more about why wrist extension is important for fine motor skills and good handwriting, and then try the activities below.
Work on a vertical surface:

Whenever coloring or drawing needs to be done, stick the paper to a wall, blackboard, door or other smooth vertical surface. If your child is practicing patterns, numbers or letter formations, do them on a mirror or blackboard. Make sure your child holds the elbow below the level of the hand to maximize wrist extension. Also, encourage your child to maintain a good upright sitting posture. Look at the picture gallery below for ideas to inspire you.
| | |
| --- | --- |
| | Have your kindergartner practice patterns on a vertical surface. |
| | Toddlers can benefit from drawing and scribbling on a vertical blackboard. |
| | Even a simple coloring activity can be done on a vertical surface to encourage wrist extension. |
| | A child who struggles to hold a pencil correctly could use a crayon held flat to rub over the paper. This promotes lovely wrist extension. |
| | Using rubbing plates on a vertical surface is a wonderful wrist extension exercise. As the child rubs the crayon over the paper, a picture "miraculously" appears! |
| | This child is using rubber stamps to make a pretty picture on a vertical surface. |
Caution! Working on a vertical surface is tiring, especially for a child with poor fine motor skills or weak shoulder girdle muscles. Be aware of this and give your child some gross motor shoulder exercises to do as a break.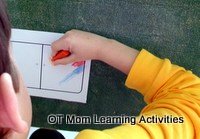 Please observe your child to ensure that wrist extension is occurring during the activity. In the photo above, the child has raised his elbow out to the side, which means his wrist is hooking. In the photo below, he has been encouraged to bring his elbow down, which leads to better wrist extension.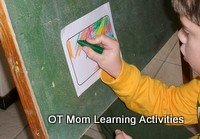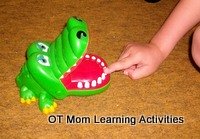 Play some old fashioned games:
Tiddly winks, Happy Hippos, leapfrog and this crocodile game are great wrist exercises for kids if the wrist is positioned on the floor as shown.



Sometimes the muscles around the wrist can be tight if your child has been hooking the hand for a long time. Find some basic wrist exercises for kids to stretch those muscles on this page about wrist extension.


If your child is already at grade school, try a slanted board to help maintain a good wrist position while writing. PFOT offer a good slanted board to use during writing tasks. You can also use a ring binder turned sideways to give a slanted surface. View the slanted board and other writing implements here






Textured rubbing plates like those shown in the photo gallery above can also be bought from PFOT – view these and other fine motor products here.


Did these Wrist Exercises for Kids help you?
Try some more Fine Motor Activities to help your child.


Return to Home Page of OT Mom Learning Activities


Receive free regular updates by signing up for my RSS feed - see the block under the Nav Bar. No email address needed!
Was this page helpful?
Please like my page and let your friends know!
Didn't find what you were looking for? Then do a search on my site!

Get your Christmas Bonus Deal!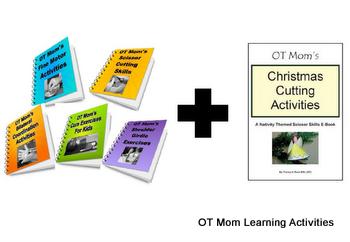 Get 15% Discount on the Mega Motor Bundle
PLUS
A free copy of Christmas Cutting Activities (worth $3.50).
Just enter the coupon code below at check-out to get your discount with the free e-book!

Christmas2017
Don't forget to "update cart" after adding the discount code!
View the deal here... or read a description of all my e-books first.
Offer ends on 31 Dec 2017.