Fine Motor ABC

A Book Review

I received a copy of "Fine Motor ABC" as a gift from the author, but the review is unpaid, honest and all mine. I review this book because I believe it can be a helpful resource.

I have used my affiliate link to direct you to the book on Amazon for your convenience; however, it may also be available from other bookstores and some libraries.
About the Author

Stacie Erfle is a pediatric occupational therapist who has combined her love of children and their development, with her love of books!
About "Fine Motor ABC"

Fine Motor ABC is a one-of-a-kind book that has been written to inform parents and children alike.
Each letter of the alphabet is linked to a fine motor activity in 3 ways:
a rhyming couplet that describes the activity that emphasises that particular letter,
a photograph demonstrating the activity,
and, a real bonus, a clearly photographed alphabet hand sign for that letter!
When kids imitate the alphabet hand sign, they will be using motor planning skills and also learning to isolate finger and thumb movements. Definitely a unique inclusion in a children's book!

Each page also has a section for parents and caregivers below the photo, which gives more information about the activity and its importance.
Because of the occupational therapy perspective, the activities in this book reflect the different areas of fine motor development that are needed in order to develop good pencil control. (Read my article on the essential bases for fine motor development for more information.)
How To Use This Book:

This book can be used in a number of ways...
Reading it straight through a few times with your kids (age 4-7) will help them enjoy the rhymes and the photos, as well as practice the hand signs.
When kids are familiar with the book, then it adds a layer of significance to doing a specific fine motor activity - my own kids loved doing stuff

"just like...[a character from a book or movie]"

. In this way, you can use the book as a reference point for doing an activity.

For kids who engage better when given a choice, you can ask them to pick an activity/letter from the book each day, or give them a selection of pages they can pick from
These books can be used to inform and empower caregivers to include helpful fine motor activities in their daily routine...  see "Who Will Benefit From This Book?" below.
Who Would Benefit From This Book?

Obviously, children who engage with Fine Motor ABC will enjoy and learn from the text, photos, and doing the activities in real life.
Parents and caregivers can benefit from this book, because the text helps them understand the "why" of the activities in fine motor development. It even explains how gross motor activities and correct positioning can help in fine motor skill development.
The book is also empowering, because it gives parents and caregivers practical ideas and inspiration to direct their child's activities, making sure that no area of fine motor development is left unaddressed.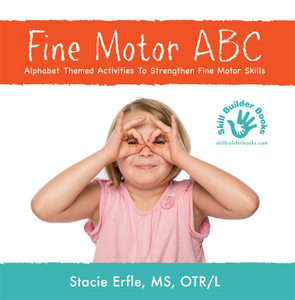 Want to get this book? You can get it here on Amazon!
Or check out Stacie's website: Skill Builder Books (opens in a new window)
Thanks for visiting!

20% Off!

Summer Activities Sale!

Summer vacation provides lots of opportunities to work on your child's gross and fine motor skills.
Get 20% off any OT Mom E-Book Products when you use this discount code at checkout!
summer2017
Don't forget to "update cart" after adding the discount code!
View a description of all my e-books here and don't forget to check out the Bundle Deals.
You can apply the discount code to individual e-books and/or to bundle deals!
Offer ends on 30 June 2017.

Was this page helpful?
Please like my page and let your friends know!
Didn't find what you were looking for? Then do a search on my site!