Cutting Activities...
Some Fun Ideas!
These easy cutting activities will give your child lots of practice in developing his fine motor skills.
Being able to cut well with scissors is a vital preschool, kindergarten and elementary school skill. As an occupational therapist and homeschooling mom, I offer you these fun learning activities to help your child learn to cut well!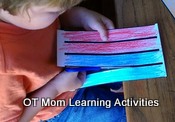 How scissor cutting skills develop
"Cutting out" involves two completely separate skills:
learning to use scissors... and then...
learning how to cut out on a line
It is best to teach these skills separately!
Make sure you read this article on scissor cutting
before proceeding with the cutting activities suggested below, to
ensure
your child starts on the
right level
and with the
correct scissor grasp
.
Please ensure your child uses blunt-nosed scissors suitable for his age group!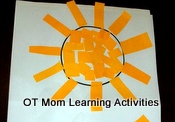 If your child struggles to get a good cutting motion, start by cutting strips and make a collage picture with the strips. Then try the scissor cutting activities suggested below.
Cutting on thick straight lines is the easiest to start with, then progress to cutting circles, then simple shapes such as squares and triangles. These activities can be done by children from Preschool to Grade 1, depending on their abilities.


Shirley offers a lovely leaf craft cutting activity which is suitable for children who have just mastered the art of scissor cutting.
| | |
| --- | --- |
| | You can cut out on color paper to stick onto a plain background, or you can find ways of decorating plain paper lines and shapes with patterns and crayon rubbings. Painting over crayon patterns with a diluted food-coloring solution makes a pretty change. |
| | Cut 8-10 lines and staple loops together to make this pretty flower. |
| | Staple or tape loops together to make a colourful paper chain to brighten up a room or as a party decoration. |
| | For a spider, you need a circle (with a face drawn on it) and 9 lines. |
| | After stapling the legs to the circle, bend each leg near the top and the bottom to make joints and feet. Stick or staple a strip in the centre of the face to make a strand of "web" by which your child can dangle the spider. |
| | Use 5-6 circles to make a caterpillar, and decorate the head with a smiley face and pipe-cleaner feelers. We added small pipe-cleaners to make 6 legs on the first segment. |
| | Two rectangles and two circles can make a truck – in this case we added a ladder to make a fire truck. |
| | An easy picture with a triangle and a square. We drew the chimney and added smoke for more texture. |
| | Draw some simple windows for your child to cut out, to add to the challenge. |
| | Once your child can manage simple shapes, progress to more complicated ones, like this fruit activity. |
Did you find these scissor cutting activities helpful?
Try some more Fine Motor Activities!

Return to Home Page of OT Mom Learning Activities.