How To Teach Letter Formation
How To Teach Letter Formation


Speak to an older kindergarten teacher, and they will fondly recall planning how to teach letter formation one letter at a time. Kindergarten used to be the time when kids were immersed in mastering the correct formation of each letter before moving on to the next.

Children had time to master the form and sound of the letter, repeating it daily and using lots of fun activities to reinforce learning. But with the increased pressure of the school curriculum, kids are now forced into writing sentences before they have even mastered individual letters.
As a result, many kids are simply copying letters off the board without learning where to start each letter, and simply forming them any which way. This often results in letter reversals, poor spacing and sizing of letters, awkwardly formed letters, and generally messy handwriting habits.
And because of time pressures, teachers are struggling to help kids overcome these difficulties, and often the teachers themselves are unsure where to start.
Handwriting Heroes Will Help You!

Handwriting Heroes is an amazing resource that gives teachers and parents all they need to know about how to teach letter formation, especially lower case letter formation.

Each letter has a story which ties in with the other letters, a phonetic element and often involves humor.
There are also songs, actions words and animated videos.
The workbooks are full of tips and tricks that are woven into the stories and images.
This page contains a brief review of the Handwriting Heroes products. This is a resource that I have come to trust, and I have used the same techniques in homeschooling my own children as well as kids in schools. These are my affiliate links and I will earn a small commission if you purchase through my links. However you are under no obligation to purchase anything!

Teach Lower Case Letter Formation In Just 5 Weeks!

Using Handwriting Heroes, lower case letter formations are taught in "groups" of similarly formed letters.
That means that 4 - 6 letters can be learned at a time, as they are formed in a similar way, thus reinforcing the formations.
On Mondays, you can introduce all the letters in a particular group and then review those letters from Tuesday to Friday.

Using the Lowercase Workbook, simply follow the outlined schedule to cover all the letter formations in just 5 weeks!
Use the stories, the songs, actions and videos to reinforce learning.
Part of the teacher's guide
Help Prevent Letter Reversals!

Teachers who have used Handwriting Heroes comment that students rarely struggle with reversals after they have been taught using this method, because the letters that are the most often confused, are taught in different groups.
For example, b is a "bouncer" and starts by bouncing down; while d is a "cannon pop" and starts like the "c".  
In addition, the writing lines - i.e. the top, middle and bottom line - are described in terms of the "sky-clouds-grass- dirt" which makes logical sense to kids.  
These features can all help to prevent early letter reversal habits.

Resources To Help You Teach Letter Formation

These resources are super-useful in helping you get to grips with figuring how to teach letter formation to your child or class.

Print Practice Workbook

The Print Practice Workbook gives your child opportunities to practice their lowercase letter formation. It starts with simple, three-letter words along with cues for how to make the letters. It then moves on to short two-word phrases and then sentences. I particularly like the strategy for leaving spaces between words.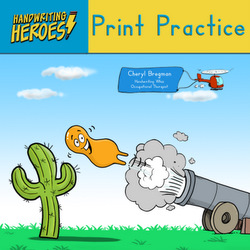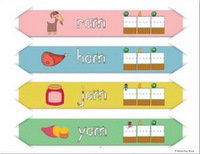 Practicing the letters to make short words
Practicing short phrases
Uppercase Workbook
The Uppercase Workbook uses the concept of similarities and differences to teach uppercase letter formation.
The letters that are formed in the same way, in both upper and lowercase (e.g. Cc, Oo, and Ss), are taught first.
This helps with the correct placement of the uppercase letters on the writing line. 

By the end of the first lesson, your child will know 7 uppercase letters, which is an amazing confidence booster.
The book is beautifully illustrated with large letters for tracing and comical characters. The sentence writing activity focuses on practicing the letter forms and reinforcing the sounds that the letters make.
View the Uppercase Workbook now!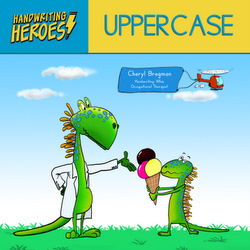 Number Workbook

Number formation is often neglected, but learning the correct number formation from the beginning can help prevent number reversals and confusion at a later stage.
The Number Workbook incorporates a rhyme and illustrations of each number which makes it easy to remember the correct formations.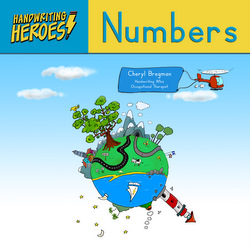 Special Lined Paper

If you've never before thought about the paper your child uses when learning to form letters, you may be surprised by the effectiveness of the three-lined paper from Handwriting Heroes!
It includes various line thicknesses and can make a remarkable difference to the neatness of a student's writing.
What If my Child Struggles To Hold A Pencil?

Very young children or those who can't hold a pencil can still use the concepts given in Handwriting Heroes to master their phonics and learn how to form the letters.
Just give them lots of practice using their fingers in the sand, tracing over your letters on a chalk board and other fun letter formation activities.

In addition, you can use the Pre-K Printing Workbook, which uses finger tracing, rainbow writing and pin punching to help develop fine motor skills while learning the letter forms through lots of repetition.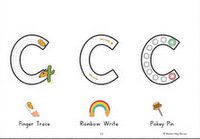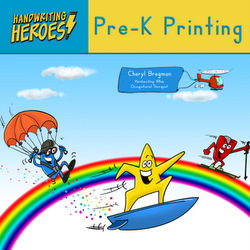 In addition, check out the hands-on letter formation suggestions for young kids on my site, as well as some fine motor activities to help your child.
In conclusion, I hope you find these resources as helpful as I did!
I have no doubt from all my years of experience with kids in schools, as well as teaching my own 3 children to write and read, that correct letter formation really matters.
If your child has any kind of predisposition to learning difficulties, then giving a strong foundation in correct letter formation from an early age can give your child a better chance of mastering handwriting and reading later.
Please do share this page if you found it helpful, and sign up for my free, occasional newsletter if you want to stay in touch with new activities and pages on my site!
How To Teach Letter Formation
If this page was helpful, please share it with your friends!

Related Pages