Eating Aids for Kids


These eating aids may be helpful for kids who have fine motor delays, coordination problems, or who are picky eaters.

Find some inspiration to make mealtimes less tricky for your child!
Disclaimer: I only recommend products that I trust. I received free samples of these particular products in return for an honest review. The opinions are all mine. I have used my affiliate links to link to the products on Amazon for your convenience. I may receive a small commission if you purchase something through my links - however, you are under no obligation to purchase anything.

Chopstick Eating Aid

With these chopstick holders, the food has a good chance of getting to your mouth!
The design cleverly lets the thumb, index and middle fingers slide into place around the top chopstick, and helps the ring and middle fingers to guide the bottom chopstick.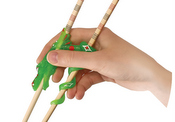 One of my kids, whose poor fine motor skills stopped him from holding chopsticks, was delighted at being able to grasp them with this chopstick aid. It is chunky enough for little hands, while still being comfortable for a chopstick-challenged adult to hold.
The actual coordination involved in eating with chopsticks would still require practice, but this aid would make it possible for kids with fine motor delays to at least hold the sticks and then work on the motion.

View the training chopstick on Amazon
Spoon Grip

One of my kids tends to hold his spoon in a death grip, and this nifty little aid helps him hold it in a more civilized way *grin*.
The pictures below show how the grip helped him get a better position of his thumb on the spoon.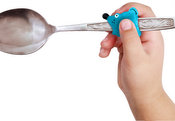 With regular use of the grip, your child can learn to automatically hold the spoon correctly, but it won't make much long term impact if it used only as a novelty item.
This spoon grip only works on teaspoons, or spoons with a fairly narrow handle (not the wide handled kiddie spoons).
Tip: buy one for EACH child, not just the one who needs it...if you want to prevent jealousy and whining at mealtimes! *sigh*
Usual Death Grip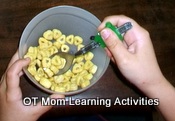 Using Spoon Grip
View the Spoon Grip on Amazon
Food Cutters: Fun Bites

Every mom knows that kids like having fun shapes in their food. But sometimes cutting out shapes is not child's play!
There are a few different food cutters on the market, as well as standard cookie cutters that can be used, but the products made by Fun Bites are really appealing for a number of reasons: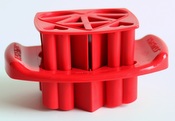 They don't hurt your hands! Yes, seriously! Those chunky handles on the side are miles better than pushing down on standard cookie cutters with your hands.
They make cutting a breeze - you use a see-sawing back and forth cutting motion to cut through even meat. This motion, combined with the comfortable handles, makes cutting out really easy.
See my photos below to see how a sandwich gets transformed into lots of tiny squares with minimum effort and wastage. (NB the heart shape cutter may have more waste)

For kids who are truly oral defensive, or over-sensitive to taste and texture, cutting food into attractive pieces may help them take that all important first taste. The pieces are small enough to pop into the mouth, eliminating any yucky bits left on the lips *grin*
But I think the appeal of these cutters is going to be to kids who need to be enticed to eat. They turn mundane sandwiches, pizza, and slices of meat into seriously fun bites.
My only struggle was that I couldn't find enough different kind of food to try the cutters on, as many foods have their own cute shapes already (carrot wheels, sliced eggs).
Tip 2: Don't put too much gooey filling in the sandwiches if the bread is thin - it may ooze through when you push the cutter through. However, the Fun Bites cutters are dishwasher safe and wash well.
Tip 2: Although you don't want too much gooey filling, you do want the filling to stick to the bread, so it is helpful to have a bit of butter or mayo with fillings such as cheese, ham, lettuce etc. If your child prefers to not have butter, for example, then a cheese filling may fall out. However, my kids didn't mind putting their mini sandwiches together again, so you may be an option to cut the bread, ham, cheese etc separately, and have your kids build their own little tripledeckers LOL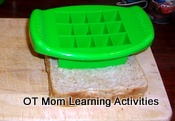 Place the "cutter" on the food, and cut through with a see saw motion.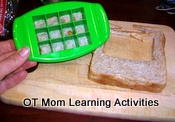 The food is now inside the cutter.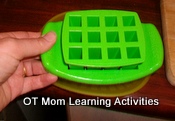 Pop the "pusher" into the cutter and push through.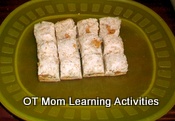 Voila!, 12 perfect squares.

Repeat with the rest of the sandwich. I left the crusts off, so you can see how the cutter goes practically all the way to the edge.

View FunBites food cutters on Amazon.
Do you know of any other eating aids that have helped kids who are struggling with fine motor, coordination or sensory issues? Please contact me and let me know!

Eating Aids to Help Picky Eaters
If this page was helpful, please share it with your friends!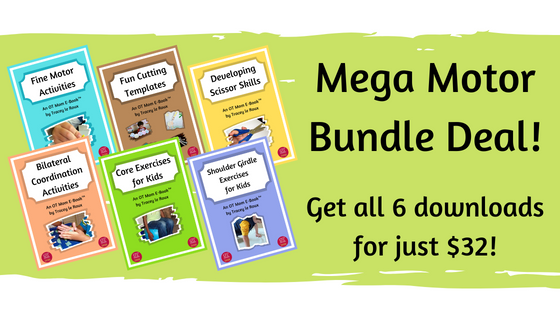 Didn't find what you were looking for? Try a search of my site!