Tactile Perception

Viewing this page on your device?
Please adjust your settings to enable images!
I use small photos to illustrate the information and activities that I share, and you will have a much better experience on this website if you can view the images.

Tactile Perception (sometimes referred to as touch perception) is the brain's ability to understand (perceive) what the hands are feeling.
When you shove your hand into your bulging handbag and fish around to retrieve your keys, it is your touch perception that will help you to find your keys without using your eyes!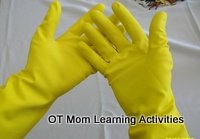 Stop for a moment and think how it feels to wash the dishes with rubber gloves on, or to plant a delicate seedling with garden gloves on! Wearing thick, clumsy gloves limits your ability to know what your hands are doing! When you are not getting good feedback from your fingers, it is hard to be accurate with them. You are more likely to be clumsy, and end up crushing the delicate plant roots or breaking the fragile crystal glass.
This is what poor touch perception feels like!
If your child has poor touch perception, it feels to him as if he is doing everything with rubber gloves on.There is probably not anything wrong with the nerves in his hand, but his brain is not processing the information from his hands properly.
So perhaps he is really clumsy, always dropping small items or letting things slip out of his grasp. Or perhaps he squeezes the pencil really tightly so he can "feel" it properly to control it. Does this sound like your child?!
Accurate tactile/touch perception is an
Essential Base for Good Fine Motor Skills.



| | |
| --- | --- |
| | It is easy to make a tactile perception "Feely Bag" with an old cloth bag or handbag, and a safety pin. |
| | Simply pin the center of the cloth bag, so that two holes are created, big enough for your child's hands to enter. Voila, "Feely Bag"! |
Or try this if you like sewing...
| | |
| --- | --- |
| | Sew a flat "Feely Bag" with 4 holes or "arms". This would enable you to put your hands in the other side, either to help your child or to have a race with him to see who finds the object first. |
| | Another sewing idea is to make an elasticated cloth top that fits over the top of a shoebox or large ice-cream container. It needs to have 2 hand/arm holes – I find that stretchy ribbing makes great "holes". |
Now have fun with these Tactile Perception Activities!

Return to Home Page of OT Mom Learning Activities


Was this page helpful?
Please like my page and let your friends know!
Didn't find what you were looking for? Then do a search on my site!

Get your Christmas Bonus Deal!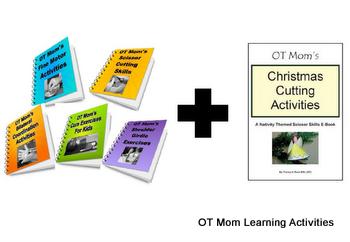 Get 15% Discount on the Mega Motor Bundle
PLUS
A free copy of Christmas Cutting Activities (worth $3.50).
Just enter the coupon code below at check-out to get your discount with the free e-book!

Christmas2017
Don't forget to "update cart" after adding the discount code!
View the deal here... or read a description of all my e-books first.
Offer ends on 31 Dec 2017.