Bilateral Coordination
Children with poor bilateral coordination skills (also called bilateral integration) may struggle with gross motor activities such as jumping, catching a ball or beating a drum with rhythm.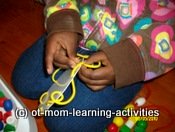 They may also struggle with fine motor tasks such as tying shoelaces, drawing a line with a ruler, threading beads, lacing, using a knife and fork together and scissor cutting as these all require both hands to work together well. As you can see, bilateral integration skills are vital for many areas of your child's life.


Many kids with bilateral coordination delays would rather use one hand alone than both hands together, and may appear awkward in certain tasks.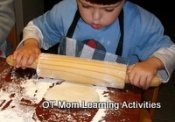 Some bilateral activities use the same movement with each hand/leg (eg rolling out pastry with a rolling pin) – these are called Symmetrical Movements.
Other activities use first one hand/leg and then the other, as seen when you pull in a rope hand-over-hand. These are called Reciprocal or Alternating Movements.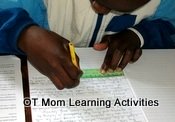 And sometimes we use one hand to play a supporting role while the other hand does more skilled work, such as cutting with scissors, threading beads or drawing a line with a ruler.

Although symmetrical movements are easier, your child does not have to master these before moving on to alternating movements – you can combine different kinds of movements as he progresses.
A child will usually learn to coordinate the use of his arms before the use of his legs, and obviously, the hardest thing is for a child to use his arms and legs together in a coordinated way at the same time (star jumps/jumping jacks). So keep that in mind as you try the following activities.
The vestibular system (which is situated in the inner ear and helps the brain to process movement information) plays a vital role in a child's physical development. Children with poor vestibular processing may well have delayed bilateral integration abilities. For this reason, many occupational therapists use movement activities in their therapy sessions to boost bilateral coordination skills.
Try and use a "moving" activity before each session. Examples are: jumping on a trampoline, rolling on the grass, going down a slide, and doing somersaults.

Bilateral Coordination Ball Activities:
Catching a ball is good for bilateral coordination, but if mom has to keep chasing missed balls, it can get pretty tedious!
Here is a great way to help your child practice ball skills without chasing after missed balls all day long: suspend a ball in a net as shown in the photos below, and your child can practice pushing and catching the ball without it getting away from him!
| | |
| --- | --- |
| | I use a net bag, the kind that you get fruit and veggies in. I pop a tennis ball in and knot it to a length of rope. The rope needs to be long enough to get the ball level with your child's chest. For younger children, use a larger plastic ball. Suspend the ball from any horizontal pole or even from a hook in a doorway. |
| | It is so hard to get an action shot! But here, you can see a blur of green – that's the ball that Jamie is about to catch after having pushed it out. He has to watch it carefully to catch it again with both hands together, and to not let it bang against his chest. We suspend our ball from the horizontal pole on our verandah. |
More Activities For Bilateral Integration
| | |
| --- | --- |
| | Good old Slinky Springs – shifting the hands just enough to get the sling to move back and forth between the hands is great fun and a good coordination challenge. |
| | Pulling on a rope is a good way to get the hands working rhythmically together. |
| | Encourage your child to roll large balls of playdough between the palms of his hands. This gets the two hands working together nicely. Use the balls to make the segmented body of a caterpillar. |
| | Callum loves these noisy hammers, but musical shakers would do just as well. Try moving them up and down together or alternately in time to music or your clapped rhythm to get a great bilateral coordination challenge. |
| | Getting legs to move together is hard work. Start by having your child jump over a line and back again, one jump at a time. As you see him start to get the hang of it (maybe only a few days later), try asking him to jump 2, 3, 4 times without losing his two-feet landing gait. |




The above activities are just a small sample of the variety of activities that you will find in my Bilateral Coordination Activities E-book.

Are you concerned about your child's hand dominance and crossing the midline? Read more about how bilateral coordination can influence your child's handedness and midline crossing skills.
Return to Coordination Skills for more ideas to boost kids coordination, or visit Gross Motor Activities for more free gross motor exercises.
Return to Home Page of OT Mom Learning Activities