Cutting Skills Printables
Christmas Cutting Skills Printables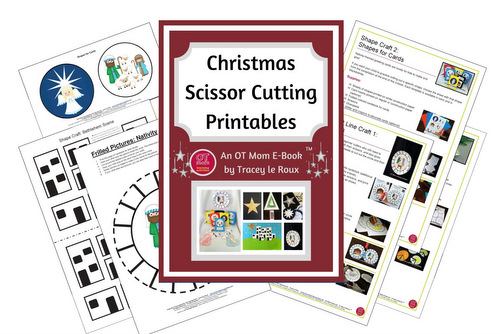 Do you need good quality cutting skills printables with a nativity theme?
Are you looking for Christmas cutting activities that will give your child a sense of achievement?
Does your child need to work on scissor skills, but needs some motivation?
Looking for easy Christmas crafts that preschoolers and kindergarten kids will enjoy?
My Christmas Scissor Cutting Pack could be exactly what you need!
Kids with poor fine motor skills often feel frustrated at not being able to create attractive end products.
However, with my graded cutting activities, your child is sure to find something that he/she can easily accomplish while working on scissor skills.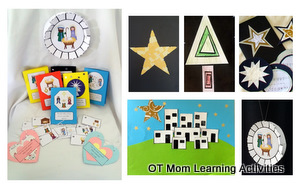 Contents of the Christmas Cutting Printables E-Book
My cutting skills printables are mostly nativity themed, so you won't find winter themes, snowmen or santas in my pack!
You will, however find nativity pictures, Bethlehem scenes, angels and stars!
This is an overview of what you will receive:

- Tips and suggestions to get the most out of the activities
- 2 lovely snipping activities
- 2 short line cutting activities
- 3 straight line cutting activities
- 10 Christmas crafts and activities based on cut-out shapes (ranging from simple circles and squares, to hearts and stars)
Each Christmas cutting activity comes with photographed instructions followed immediately by the template needed for that activity
Each template is also repeated in the Templates section at the end of the e-book for those who want to print them all at once.
Printing the Christmas Cutting Templates
All the Christmas cutting skills printables come in printer-friendly black and white versions that your child can color/decorate before cutting out.
However, as a bonus, some of the templates also have colored versions and/or thinner lines for an additional challenge.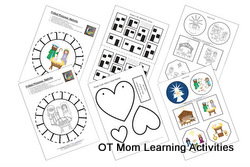 All in all, with the different variations, you will receive more than 40 pages of cutting skills printables, in addition to the instruction pages.
Your printables will come in a secure PDF format, which you can save on your device and just print the templates out whenever you need them!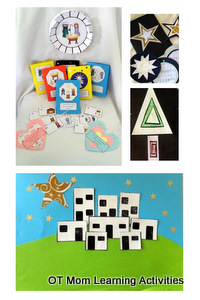 Buy My Christmas Cutting Skills Printables!
Use your credit card to pay securely via PayPal, or pay with your PayPal account. You will receive the download links by email shortly after payment.

More Scissor Cutting Resources
Help Your Child Master Scissor Cutting
Is your child struggling to cut neatly with scissors? 
Do you want to teach your preschooler how to cut with scissors but don't know where to start?

My 33 page scissor skills e-book will help answer your questions, and will give you step by step photographed activities to help your child master scissor skills.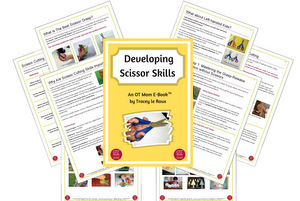 Awesome Cutting Practice Printables!
Does your child need more scissor cutting practice? Are you struggling to find good scissor cutting templates?
OT Mom's compilation of fun cutting templates will give your child lots of cutting practice with lovely end products to build your child's confidence!
Suitable for a range of skills - from preschoolers who are just learning to use scissors, all the way to early elementary kids who need more practice with their scissor skills.
There are 19 different scissor cutting crafts, all with photographed instructions and a variety of templates - over 50 templates in all!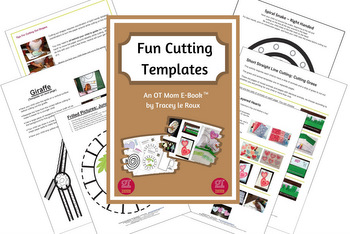 Starting with simple snipping activities, the templates will enable your child to learn to cut on straight lines and then to cut out shapes. All the activities are photographed so you and your child can see what you are working towards!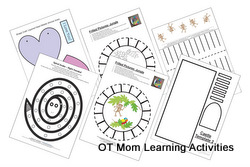 Got Questions?
Pop over to my E-Book FAQ page for comprehensive answers to questions regarding payment, downloading, use of the e-books and troubleshooting.
None of the OT Mom E-Books TM serve as a substitute for an occupational therapy evaluation and treatment. Please read my E-Book Disclaimer for further details.
All OT Mom E-Books TM Come With A

Guarantee

! If you're not satisfied with your e-book purchase(s), just email me within 2 weeks of your date of purchase and explain why you are not satisfied - and I'll issue your 100% refund within a week.
Your e-book purchase is 100% safe and secure - and 100% risk-free.
Thank you for your interest in my OT Mom E-Books TM. Please do check out the rest of my e-books if you have not already done so!
Cutting Skills Printables
Cutting Skills Printables
If this page was helpful, please share it with your friends!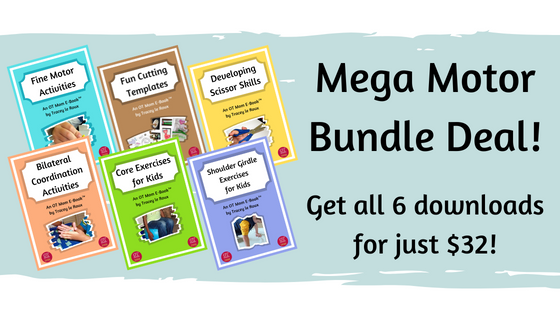 Didn't find what you were looking for? Try a search of my site!