Crossing the midline - I had no idea!
by Catrena
(Rising Star, Texas, USA)
I had no idea that there was such a thing as not being able to cross the midline until I was told my 4 year old daughter had it. I asked every teacher that worked at the school with me (I was the school nurse) if they had any information about how to help her cross the midline and no one had any idea.

I am glad I have found this website and if you have any suggestions please let me know. It is nice to know that I am not as alone as I have been feeling for the past few years.


Return to Parent Support General.
Was this page helpful?
Please like my page and let your friends know!
Didn't find what you were looking for? Then do a search on my site!

Get your Christmas Bonus Deal!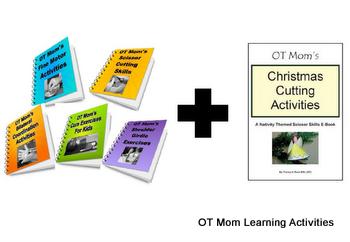 Get 15% Discount on the Mega Motor Bundle
PLUS
A free copy of Christmas Cutting Activities (worth $3.50).
Just enter the coupon code below at check-out to get your discount with the free e-book!

Christmas2017
Don't forget to "update cart" after adding the discount code!
View the deal here... or read a description of all my e-books first.
Offer ends on 31 Dec 2017.