Does Your Child Miss
Visual Details?
Does your child struggle to pay attention to visual details?
Does he/she often mix up very similar-looking items or letters?
If so, you may want to try activities that boost visual discrimination skills!
Good visual discrimination skills can help your child tell the difference between letters, which is essential for reading and for learning correct letter formations.
Other classroom activities such as working with maps and graphs, and completing spot-the-difference activities, are also affected by visual discrimination skills.
I have created separate pages full of free photographed visual discrimination activities for different ages of kids.
You can now view visual discrimination activities geared to kids in preschool, and activities geared to kindergarten kids. Of course, you can mix and match my activity suggestions according to your own child's needs – every child is different!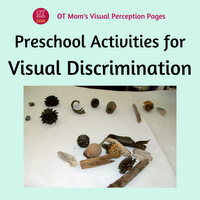 View my preschool visual discrimination activities!


View my kindergarten visual discrimination activities!
My original visual discrimination page has some tips and activities for slightly older kids who have already started school, as well as a description of how poor visual discrimination skills can affect your child's learning.
So pop on over and be inspired at how you can boost your child's visual discrimination development!
Visual discrimination info and some ideas for older kids!

Please do feel free to share this email with anyone you think will benefit from this information or resources!
Thanks so much for joining me again this month!
Tracey
Living Life Abundantly!
John 10:10

This information and the suggested activities on my email and website are meant to promote your child's normal development. If you are at all concerned about your child's development, please consult your health professional. The information on my email and website is not intended to take the place of an occupational therapy evaluation and treatment!

---