How Well Can Your Child
Cut With Scissors?
If you answered this question with "not very well", then this newsletter is for you!
Scissor cutting is a vitally important fine motor skill, yet it is often overlooked.
Cutting with scissors is a great activity to strengthen the hand muscles.
In addition, when kids hold the scissors correctly, then the tripod fingers get to work together. The tripod fingers are the thumb, index and middle fingers, and these are the fingers that should be used to hold a pencil.
Scissor cutting gives these fingers lots of practice in working together, which can have a positive impact on pencil control. In addition, cutting along a line gives the eyes a chance to focus and guide the hands, which is also important for handwriting.
I have a whole series of scissor cutting pages on my website, to help kids master this skill every step of the way!
If your child struggles with the grasp-release motion of the scissors, then head over to Part 1: Teach your child how to use scissors.
Part 1: Teach Your Child How To Use Scissors

If your child can open and close the scissors, but has not yet figured how to cut on the line, then head over to Part 2: Teach your child to cut along the line.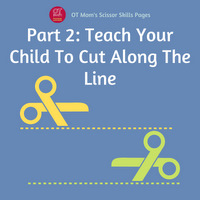 Teach Your Child To Cut Along The Line

And if your child needs cutting practice, head over to Part 3, to be inspired by simple cutting activities that will help your child grow in confidence.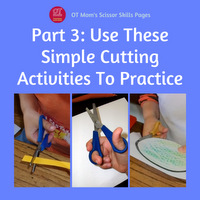 Simple Cutting Activities To Practice Scissor Skills


Have slightly older kids who need cutting practice? Then check out these lovely scissor cutting resources developed by Your Therapy Source… Great end products to keep your kids motivated while they practice scissor cutting.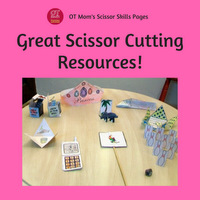 Printable Scissor Cutting Resources

I hope you find these pages useful!
Please do feel free to share this email with anyone you think will benefit from this information!
Thanks so much for joining me again this month!
Tracey
Living Life Abundantly!
John 10:10

This information and the suggested activities on my email and website are meant to promote your child's normal development. If you are at all concerned about your child's development, please consult your health professional. The information on my email and website is not intended to take the place of an occupational therapy evaluation and treatment!

---