Do Different Fonts
Muddle Your Child?
Is your child able to recognize different shapes in the home as well as in the classroom?
Is your child able to identify a letter or number, or even his/her name, in a different font?
If your young child struggles with these tasks, then you may want to try some simple form constancy activities to build this skill.
Form constancy is a visual perceptual skill that helps you to recognize and label objects correctly even if you see it in a different context. Form constancy helps your child recognize shapes, numbers, letters and words in different contexts and in different fonts.
There are some simple, photographed, free Form Constancy Activities on my website that are perfect for preschool kids, to help develop this important skill to get ready for formal learning!
Kindergarten kids who are struggling, may also find these activities to be helpful. But if you are at all concerned about your child's development, please do speak to an occupational therapist!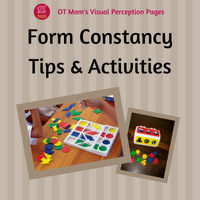 Tips and Activities To Build Form Constancy Skills

Please do feel free to share this email with anyone you think will benefit from this information!
Thanks so much for joining me again this month!
Tracey
Living Life Abundantly!
John 10:10

This information and the suggested activities on my email and website are meant to promote your child's normal development. If you are at all concerned about your child's development, please consult your health professional. The information on my email and website is not intended to take the place of an occupational therapy evaluation and treatment!

---