Ultimate Homeschooling Bundle
Ultimate Homeschooling Bundle

Is It Right For You?


Viewing this page on your device?
Please adjust your settings to enable images!
I use small photos to illustrate the information and activities that I share, and you will have a much better experience on this website if you can view the images.

Whether you were thrown in the deep end by Covid-19  or you have been homeschooling for a while, you may find some helpful resources and support in this Ultimate Homeschooling Bundle!
This bundle has products that can help parents who are looking at back-to-school hybrid / blended learning plans, as well as "regular" homeschoolers. Many of these products can help make learning at home a bit more fun in these challenging times! You can get over 50 quality homeschooling resources for just $29.50!

But for many of us at the moment, spending almost $30 is a lot of money, and you will want to consider carefully if this Bundle is the best one for you. I wrote this page because I know how tricky it can be to try and make a decision about buying a Bundle Deal in such a short space of time - the flash sale only lasts from Wed February 3rd @ 12:01am ET - Thursday February 4th @ 11:59pm ET !
On this page, I will be calling out some of the products, and answering some questions you may have.
Honesty Point: I am a contributor to the Ultimate Homeschooling Bundle, as well as an affiliate. I have downloaded and accessed the resources for myself, and my review is my honest opinion. I will receive a commission if you purchase anything through my link, but you are under no obligation to purchase anything! Get this deal only if it is right for you!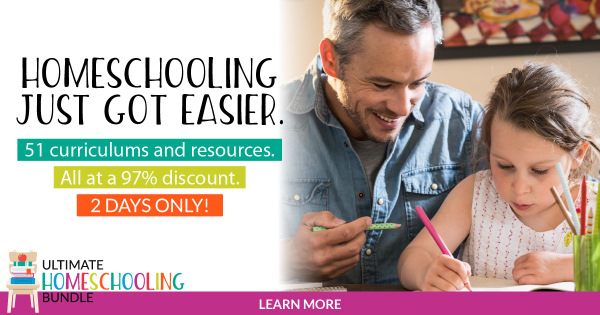 What's Included In The Ultimate Homeschooling Bundle?
In short - this bundle contains over 50 homeschooling resources that cover the whole age range from preschool to high school.

There are e-books, workbooks and printable packs for preschool, kindergarten, elementary, middle and high school students
There are online courses and summits for parents

There are online courses and audio resources for kids/teens
There are a variety of planning and organizing resources to help new parents figure out their own family's homeschool journey
PLUS there are a multitude of bonus gifts, that alone are worth over $120!
So check it out, take time to look at my reviews below, and see if this bundle is a good fit for you! But remember, the Ultimate Homeschooling Bundle Flash Sale is only for Feb 3 and Feb 4 2021!
Resources I Am Most Excited About!

We have been homeschooling since 2008, so I have 2 high school teens and a middle school tween. Although some of the resources in the Bundle are not currently useful to us as a homeschooling family of older kids, I can still see their worth from an occupational therapy perspective for those of you with preschool and primary school kids.
In this section, I am calling out the resources that appeal to me as an OT as well as ones I am enjoying as a homeschooling mom of older kids and teens.
Even if you are currently using resources sent home by your child's school, there are still a lot of products that will interest and flair to your child's learning experience, and make the blended learning experience a more fulfilling one!

Year Round Count & Graph is a resource that gives kids practice with figure-ground perception and visual discrimination skills to find objects in a busy background. Then basic math skills are used to count and graph the objects.
Lovely pages with all kinds of themes ("Year Round") for all occasions. Although color printing is recommended, printing in black and white will just increase the fun challenge for your kids. Great for preschool and kindergarten.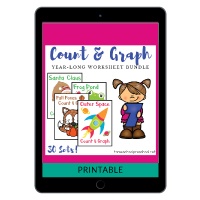 Teach Your Preschooler Bundle: This hugely informative resource empowers parents to help their preschoolers learn through play. Really helpful if you are trying to figure out how to cope with your preschooler at home.
The author breaks down all the skills needed for school readiness, explains them, and provides parents with printable activity checklists to help plan their playtimes with their preschoolers. The Pre-Reading Guide is a great help for parents to getting their kiddies ready to read.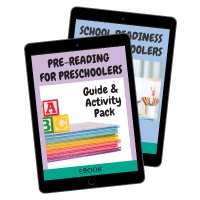 The Scissor Skills and Cutting Template bundle is my contribution to this year's bundle, and is designed to help kids from preschool to early elementary, develop and refine their scissor cutting skills. Lots of photographed instructions, tips and a checklist as well as a variety of cutting templates that can help novice cutters as well as giving practice to those who need it.

Cutting with scissors is a vital part of early childhood development, as it strengthens the hands and helps to get the fingers ready for handwriting.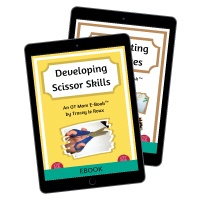 The Mega Art Journal Pack is AWESOME!!!! There are 8 different themed art journals, some suitable for younger and some for older kids. This is a resource that I plan to use in my own homeschool this year! It usually costs $49 from the author's own website, and I am thrilled to have got my hands on it in the Ultimate Homeschooling Bundle! A great way to add some fun for kids who are missing their art activities at school!

Besides teaching kids about the elements of art and the principles of design, some of the journals use light grids to teach kids how to draw. Using grid pictures is a great way to work on visual motor integration skills, particularly with older kids. Some of the other journals divide the page into 4 and show the child how to replicate simple drawings and designs using the lines as a guide - again, this is a helpful resource for older kids who need practice with visual motor integration skills.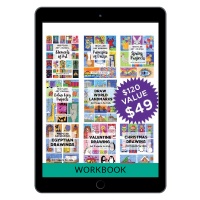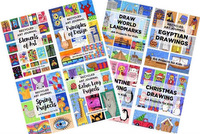 Teaching Your Dyslexic Child is a helpful introductory resource for families getting to grips with dyslexia. The author draws on her own experience, explains how to get your child help from within the school district, and points you to resources she has found helpful.
The layout of this resource is rather dated and clunky, but the content should still be useful, especially if you live in the USA.

If you ever wondered how my own homeschool runs, the Flexible Homeschool Planning Ebook pretty much sums it up. I had to smile as I read through this, as it definitely describes our own homeschool life!

So if you are struggling to know how to structure your day, never mind your week, and feel guilty that you are not ticking nice neat boxes in your pretty homeschool planner, then this one is for you as well as for me! I wish I had read this years ago!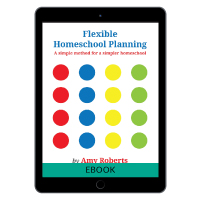 Perfect for new or struggling homeschool families: "Start Homeschooling" is an parenting summit with 33 online workshops presented by experienced homeschool parents. The comprehensive array of topics cover many of the common questions and issues that new homeschoolers face.

5 Days to Your Best Homeschool Years looks like a really encouraging and practical course that enables parents to get to grips with their own personal family situation, reason for homeschooling and budget, among other things.
The course also covers love languages, learning styles, rhythms and routines. This is super helpful for families who are struggling with helping their kids do school work at home during the pandemic.
I have not had time to go through all the modules on the course yet, so this is not an indepth review, but I do like what I have seen so far.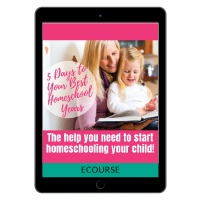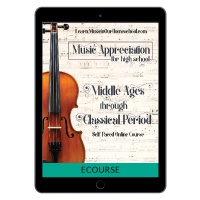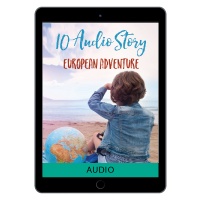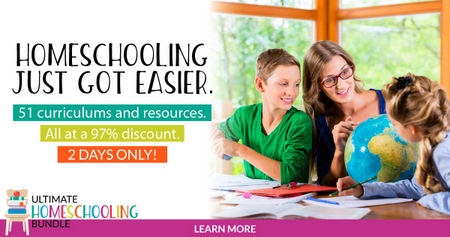 Only available on Feb 3 and Feb 4 2021!
Are The Resources Secular or Faith Based?
Most of the resources in the Ultimate Homeschooling Bundle seem to be written from a neutral perspective, addressing skills and issues that are common to all homeschoolers.
These authors may share their individual faith or beliefs in their bio's, but the ideas and principles contained in the resources are applicable across all spectrums of homeschooling (eg resources for phonics, art, scissor cutting, country studies) and their beliefs are not shared in the actual resources.

However, the following resources are definitely presented from a specific viewpoint:
(this is not a comprehensive list, as it was very time consuming to go through each and every product completely, so I may have missed a couple, but there really were very few presented from a specific viewpoint)
Specifically Faith Based:
The College Plan for Christians - a high school resource - is clearly designed for Christians, but the tips and advice it offers, for example to avoid drowning in debt, could apply to anyone.
Color Thru History gives kids an overview of significant people in history from Creation to Esther, looking at not only Biblical persons but others from the same time period in world history.
The Fruit of the Spirit study is a series of engaging Bible based lessons.
Remember the Word is a Bible memory verse bundle
Specifically Secular:
The Ultimate College Survival Guide is written from a neutral/secular perspective
Emotional Intelligence is a resource that helps parents to support their child's emotional development (particularly with anxiety and shyness) using mindfulness techniques as well as practical coping strategies.

(This download also requires that you access certain books to read with your child - these can be available from your library, or you can access some of them as YouTube readings.)

Big Ideas Through History was specifically written as a guide to explore early civilizations and world history from a secular viewpoint, in contrast to the many faith-based history curriculums out there.

(NB this is a guide and not a curriculum - it gives an overview and question sheets, and points to resources that can be used to get the information needed)
In summary, most of the resources seem to be neutral.


Why The Bundle May Not Be The Best Fit For You

As with every purchase, there are pro's and con's - I have tried to make your life easier by pointing out some of the negatives...

1) There are lots of resources in the Bundle and it can be overwhelming to work through them all.
However, the organizers of the Ultimate Homeschooling Bundle have done their best to make it as easy as possible, with a video to walk you through how to organize and access your resources. You will see this video on your account page after purchase, and all the bonuses and resources will be at your fingertips right away.
You also have 6 months to access and download everything, but, yeah, it is a lot to work through!

2) You will probably not use all the resources.
For example if all your kids are in middle school and older, you probably won't use the preschool and elementary resources. The high school section also has the fewest number of resources, but the resources that are there are still worth a lot more than $29.50, so see what your family needs at this stage.
For me, I was won over by the Mega Art Journal Pack, that usually retails for $49 and the Music Appreciation Course that usually retails for $34.

If your kids are younger, you can save most of the middle and high school resources for when you DO need them. The only thing would be that your access to the online course would have expired by then. But if you look at the range of preschool and elementary resources, as well as the bonuses which are directed to that age group, it definitely seems like a worthwhile buy.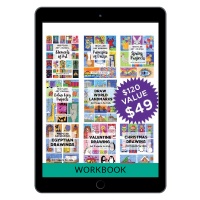 3) It Is A Lot Of Downloading, And Some Of The Files Are Really Big!

This is a bit hectic if you have limited data or internet connectivity issues. However, you get to choose which ones to download and you have 6 months to access your courses and download your documents, so you can spread the data usage over a couple months. Read the descriptions of each resource so you only download what you really need!
4) You May Need To Sign Up With Your Email for Some Of The Resources

You may need to sign up with your email address to access some of the resources (about 9 of the products are courses, summits, audio files or similar) - but you can always unsubscribe from any newsletters once you are done with the course.

However, most of the products (about 40) are downloads which you access directly once you have paid for the Ultimate Homeschooling Bundle - no need to give out your email address to access each one. You should NOT receive unwanted emails from the other Bundle contributors!
5) The preschool phonics/handwriting packets contain way too much desk work and worksheets IMHO.
Be very careful about sitting your preschooler down with handwriting worksheets such as those given in the phonics downloads.
If you want to reinforce letter formations as you expose them to phonics, then rather use the activities I suggest on my Letter Formation Activities page. Preschoolers should be spending most of their time doing hands on activities in order to learn, not worksheets and desk work.

Use the Teach Your Preschooler packet (from the Bundle) to guide you in age appropriate activities to do with your preschooler. These activities will help your child develop the skills needed for reading and writing without premature desk work. Some of the other themed unit studies for this age (eg Sunflower School) are lovely and interactive - pick and choose the activities and worksheets that at your child's level.
6) The value of the bundle is a bit overhyped IMHO

Having gone through just about all the products in the bundle, I will be honest and tell you that some of the products are better value for money that others, given their regular price.

From making my own e-books, I know a huge amount of effort goes into each product, but that does not mean we can charge a fortune for them! They are digital products after all! The bundle is hyped as being worth almost $1300 - I think the true value is about $700-800 for the actual bundle.
But it is still worth WAY more than $29.50!
And the bonus products obviously add even more value.

So, Why Should I Get This Deal?
1) It Is An Amazing Price!

Given that I have just written point 6 above, you are probably wondering how I can say this! Honestly? Because I think it still is a great deal if there are products in there that you can use!

Wondering why the prices are so low? The creators of the product are offering their products at a special price to get exposure for their websites and their other products. There are just soooo many awesome homeschool products out there, and this is a great way to find new sources you can trust.

So go through the bundle and make a list of the products you think will be useful.
* Are they worth more than $30?

* Will you be using resources you would never have considered on your own?
But do it quickly! The Flash Sale will be over on Thurs February 4th @ 11:59pm ET !

The Mega Art Journal Pack, and Music Appreciation package are the deals that won me over - these are areas of schooling that I struggle to offer my own kids, and these alone are worth the bundle price for me, as they would cost over $80 together if I bought them from the authors' own websites! (The Mega Art Journal Pack retails for $49, and The Music Appreciation Pack retails for $34)
I would never have thought of getting these products if they had not been brought to my attention through the Bundle.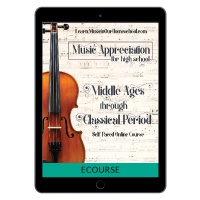 If you are looking at a back-to-school hybrid plan, you can enhance your child's blended learning experience with the lovely audio and art resources in the Ultimate Homeschooling Bundle.
Parents who are undertaking blended schooling with their kids may also find it really helpful to do some of the parent seminars offered - these can help you understand your child's learning style, find out how to schedule your time and theirs, and help you deal with the bad days.

2) All Your Purchases Are Immediately Accessible!
Once you purchase the Ultimate Homeschooling Bundle, you will receive an email with all your access information. You can start downloading and accessing your offers right away. Hint: Use the "Getting Started Guide" to help you figure your way around!
All of the Ultimate Homeschooling Bundle products are digital and either come as courses or as downloads (PDF downloads or ePub, depending on what kind of resource it is).
Once you have saved them to your computer, you can access them over and over again for each child.
Important Note: a couple of the Bonus products are physical products, and don't ship internationally, which is a bummer for me in South Africa :-(  but the digital bonus products more than made up for the ones I didn't get.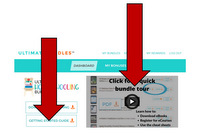 Use the Getting Started Guide to find your way around once you have purchased.
3) You Do NOT Need To Sign Up With Your Email Address For Every Download

Having bought bundle deals from other suppliers in the past, I really resented having to sign up with my email address for Every. Single. Product. I wanted to download. This was super irritating, not to mention feeling invaded by the avalanche of emails I received after downloading. It really put me off getting more bundle deals.

In comparison, the Ultimate Homeschooling Bundle gives you instant access to about 40 of the products - you can immediately download all the printables, e-books and workbooks that you want without having to go to each author's website! You don't have to sign up for their newsletter. And you WON'T get a zillion irritating emails!

The only products for which you need to sign up with your email address are the online courses, summits and audio resources, so they can send the course modules to you, and you can easily unsubscribe once the courses are done.
3) There is a 30 Day Happiness Guarantee!

The organizers of the Ultimate Homeschooling Bundle will refund you if you are not happy with the purchase - just email them and explain your situation. They are also super ready to help with any tech or download issues you may have, so please do reach out if you have any problems accessing your purchase.
Over To You!

So, what do you think? To be honest, in every other bundle I have ever purchased, there have been a few products that I was "meh" about. But in this Bundle, there are enough products that I am happy with to make it an overall positive experience.
In addition, I really appreciate that this bundle does not make me give my email address out to a zillion suppliers!

If you are still unsure, why not hop over anyway and browse the products for yourself?
Thanks so much for visiting!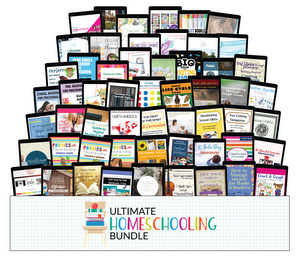 PS
This is not a normal page for me, as my website is not about homeschooling,and I have never promoted a Bundle before, although I have purchased many over the years! But because my Scissor Skills and Cutting Templates e-books are included in this Bundle, I wanted to review it for my visitors. I hope it helped!
I hope you found this honest review of the Ultimate Homeschooling Bundle to be helpful! Please do share with any others who are considering the Bundle!
Ultimate Homeschooling Bundle
If this page was helpful, please share it with your friends!

Do You Want Easily Accessible Activities and Information?
Try My OT Mom E-Books!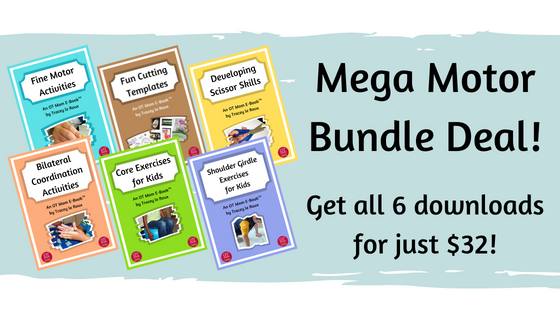 Didn't find what you were looking for? Try a search of my site!