Unusual Fine Motor Tips 6:
Let Your Fingers Do The Walking!
With apologies to the Yellow Pages :-), this newsletter is the sixth in my series of Unusual Fine Motor Tips, which focus on less known aspects of developing your child's fine motor skills.
My sixth Unusual Fine Motor Tip is to help your child isolate finger movements by doing some finger walking activities!
If you think about it, we use little movements of our fingers in so many daily tasks. Whether playing the piano, touch typing on a keyboard, doing craft work, or turning a screwdriver, our fingers need to work independently of each other.
Kids with poor fine motor skills often struggle to isolate their finger movements. Learning to "walk" the fingers can be a helpful way for your child to improve finger skills and dexterity.
I have some really great ideas using a lightweight scarf and a ball – so pop on over and look at the photographed instructions – and be inspired at how easily you can do these activities with your child every day!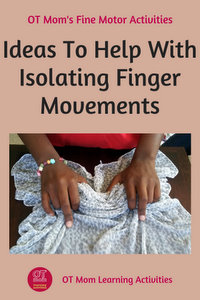 I have also put together a page of gift ideas that can help to build kids' skills. If you are looking for a great gift that can also help your child with fine motor, gross motor, visual perception, or planning/organisation skills, then do check out my page for a few ideas I have used with my own kids.
This is not just a list of gifts! I have also added details about how the toys and games can build skills and/or tips on how to use the item most effectively.
Feel free to point your friends and family to the list with hints on what you would like to receive LOL!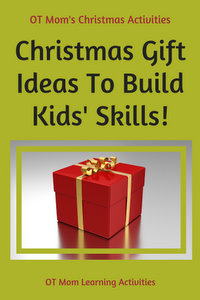 Gift Ideas To Build Kids' Skills!

Thanks for reading and for signing up for my newsletters! Please feel free to share the newsletter and pages with anyone you think will benefit from the information.
Be blessed as you help the children in your life!
Tracey
Living Life Abundantly! (John 10:10)