Unusual Fine Motor Tips 5:
Work on Upper Body Stability!
This newsletter is the fifth in my series of Unusual Fine Motor Tips, which focus on less known aspects of developing your child's fine motor skills.
My fifth Unusual Fine Motor Tip is to encourage your child to take part in activities that build upper body strength and stability, particularly at the shoulder girdle!
When the arm and shoulder joints are stabilized by the muscles around the joints, then the hand and finger muscles can work more effectively on fine motor tasks.
I often use the illustration of trying to paint a picture while standing on a stepladder – if the stepladder is wobbly and unstable, it affects the accuracy of your painting! However, if you are securely balanced on stable scaffolding, you will be able to paint smaller details with steady accuracy.
Some kids have a natural athletic ability, and will readily seek out sporty, active games and activities that help to develop their upper body strength and stability. But other kids need more encouragement to get active, particularly if their daily routine includes lots of time in the car/bus, desktop activities at school and screen time (like mine!)
So if you want to help your child develop good fine motor skills, include a few gross motor activities in his/her day.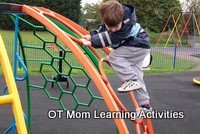 Here are some ideas:
- make a regular park date and encourage your child to climb, clamber and pull up on the equipment there – pulling and climbing are great for strengthening arms and shoulders
- build an obstacle course at home which gets your child to crawl under and through obstacles – crawling helps your child bear weight on the arms and can help improve upper body strength and stability.
- take a look at some of the shoulder "exercises" I have put on my site – most of these are easy to do at home!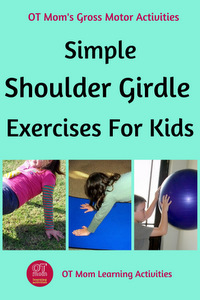 Simple Shoulder Exercises and Activities You Can Do At Home


You can read more about the importance of upper body strength and stability here:


The Importance of Upper Body Strength for Kids


If you have not been to my site lately, you may not have seen the current promotion: 20% off my Mega Motor Bundle as a back to school special – valid until the end of August with the promo code backtoschool2018. If you have been meaning to get my e-books, now is your chance to pay $16 instead of $20 for a gross motor and fine motor bundle that is worth $30!
View the Mega Motor Bundle Here!

Thanks for reading and for signing up for my newsletters! Please feel free to share the newsletter and pages with anyone you think will benefit from the information.
Be blessed as you help the children in your life!
Tracey
Living Life Abundantly! (John 10:10)