Unusual Fine Motor Tips 4:
Make a Batch of Playdough!
This newsletter is the fourth in my series of Unusual Fine Motor Tips, which focus on less known aspects of developing your child's fine motor skills.
My fourth Unusual Fine Motor Tip is to make a batch of lovely homemade playdough and then use it to work on your child's fine motor skills! This is also a fantastic activity to do in the holidays!
Playdough has so many benefits. It provides a great sensory experience for kids, and also gives them lots of opportunities to work on their bilateral coordination skills (the focus of my previous newsletter) when they pound, squish and roll out the playdough.
As far as fine motor skills go, playdough is a terrific medium for strengthening hands and fingers. I also use it a LOT to help kids work on mobilising the tripod fingers (the fingers used to hold a pencil).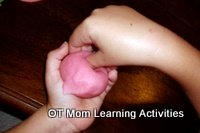 To get the most of the fine motor benefits of playdough activities, I recommend that you spend a few minutes (even 10 minutes) each time to you use playdough, to help your child work on the fine motor aspects. In order to do this, pack away the cutters, shapers and all the other playdough gadgets and just focus on moulding, shaping and rolling the playdough using the hands and fingers.

My website and my fine motor e-book contain photographs to help you see what you can do with your child.

Once your child has spent some time strengthening the hands in this way, then by all means bring the gizmos back for an extended playtime! My own kids would earn their time with the playdough toys by first making some playdough nests and eggs with me. It's a lovely, focused time together, with great benefits!

I really recommend that you make a nice big batch of playdough – this is my recipe for a cooked playdough that lasts really well and feels lovely to play with. (You can download a free printable of the recipe on that page)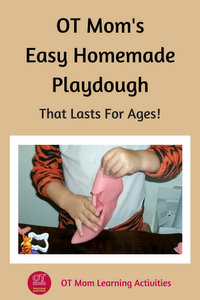 Once you have made your playdough, head over to read more about the awesome benefits of working with playdough and get some easy activity ideas!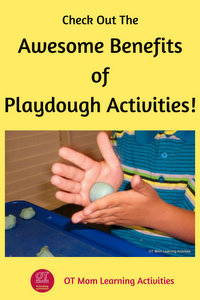 Playdough Benefits and Activity Ideas


And one last thing before I go… I have extended my Summer Sale until 7 July – so you have a few extra days to head over and get my e-books at a special discount!
My newsletter subscribers get 20% off any of my OT Mom e-books or e-book bundles when they use the coupon code specialsummer2018 . (Regular visitors to my site only get 15% off with the code given on my website.)
Thanks for reading and for signing up for my newsletters! Please feel free to share the newsletter and pages with anyone you think will benefit from the information.
Be blessed as you help the children in your life!
Tracey
Living Life Abundantly! (John 10:10)