Unusual Fine Motor Tips
2: Tactile Perception
This newsletter is the second in my series of Unusual Fine Motor Tips, which focus on lesser known aspects of fine motor development – lesser known but still important!
My second Unusual Fine Motor Tip is to include activities that develop your child's tactile perception.
Our brains are wired to interpret information coming in from all our senses, and then to process and act on that information.
When you are working with your hands and fingers, your brain uses information from your skin, joints and muscles to figure out what you are holding, and the correct amount of force needed to get the job done.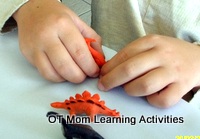 Children develop good touch/tactile perception for fine motor skills when they are given opportunities to touch, hold and work with different materials and textures – and that includes grabbing branches to climb trees, and doing handstands on the grass!

However, a decrease in outdoor and free play time, and an increase in screen time, can influence the adequate development of a child's tactile perception. This, in turn, may affect handwriting.

I have two pages on my site that you may find helpful:

Tactile Perception
This page gives you some more information on what tactile/touch perception is and how it can affect a child's fine motor skills.

Tactile Perception Activities
This page has lots of photographed activity ideas that you can easily use to help your child develop tactile perception skills.

Thanks for reading and for signing up for my newsletters! Please feel free to share the newsletter and pages with anyone you think will benefit from the information.

Be blessed as you help the children in your life!

Tracey

Living Life Abundantly! (John 10:10)