August 2016
Long Time No Hear!
Well, it has been almost a year since my last newsletter *blush* but in my defence, a LOT has been happening in my life since then!
I have had not one, but two cochlear implants, 6 months apart, which have completely revolutionised my hearing and my life! Both of them came about very unexpectedly and it would take a whole blog just to tell the story, but suffice to say that it was all 100% the Lord's provision and timing, and I am ever so grateful! I am thoroughly enjoying the immense world of sound, most of which I had no idea existed, having been severely to profoundly deaf since early childhood.
However, the rehab process took quite a lot of time, as I live 120km from the hospital where the rehab was being done, which meant lots of time travelling and not enough time to write newsletters and new pages for my site. But life has settled down for the time being and I am SOOO looking forward to being in touch with you all once more!
So, to get back into the swing of things, here are a few things that you may find useful!
Easy Core Exercise for Kids
Some children with very weak core muscles really struggle to activate their core muscles. When you ask them to pull their tummies in, they take a deep breath and lift up their shoulders and chests instead, without getting their tummy muscles working – does your child do that?

Here is an exercise that, when properly done, can help kids to feel their core muscles working, which can help them get started with harder core exercises a little later on.

Have your child lie on a mat or folded blanket as shown. Knees bent and feet flat on the floor.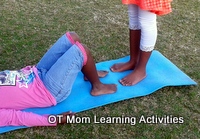 Ask a friend or sibling to stand near your child's feet so your child can stretch the feet to touch the other child's knees without making the legs completely straight.

Keeping one knee bent with the foot flat on the floor, ask your child to SLOWLY reach out the other foot to touch their friend's knee.
Now ask your child to bring the foot back SLOWLY. Repeat a few times.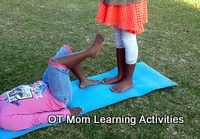 Your child should be able to feel the core muscles working to move the leg in and out – the key is to do it SLOWLY while the other foot stays flat on the floor. No quick, floppy movements!

Repeat a few times with the other leg.

Once your child has the hang of moving one leg at a time, try alternating legs without putting the feet down in between, and without letting any of the legs flop sideways or onto the tummy. Slow, steady control wins the day.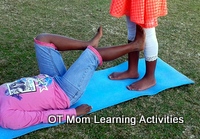 Gross Motor Skills and
School Readiness
Did you know that including preschool gross motor activities in your child's routine can help prepare them for school? Many parents think that having good gross motor skills can enable a child to excel at sports. This is only part of the benefit!

Developing your child's gross motor skills can do so much more than that – they can influence a child's ability to write well, to read well and even to concentrate in the classroom.

Let's take a look at some of the skills your child will need in formal school, and see how including preschool gross motor activities can develop this skill!


Gross Motor Activities And School Readiness


Back to School Sale!
For the first time ever, I am offering a global 20% back to School Discount on any of my OT Mom E-books!

All you have to do is add your discount code backtoschool2016 at checkout, and whichever e-books or bundles you purchase will be discounted by 20%. Don't forget to update your cart after you add the discount!

This offer expires on 30 September 2016. Please share this code with friends and family on any social media you like! If you are a teacher, please let the parents of kids in your class know.

Sadly, this offer does not apply to the visual perceptual workbooks, which are not OT Mom products.

You can view my e-books over here: OT Mom E-books
And don't forget to check the bundle deals...yes you can get a further 20% off the already discounted bundle deals! Discount Deals

It's good to be back in touch! Enjoy the last of the summer, all you northern hemisphere folk, while we in the southern hemisphere are looking forward to spring!

Be blessed as you help the children in your life!

Kind regards, Tracey

Living Life Abundantly! (John 10:10)