November 2014
The leaves are falling in the northern hemisphere, while we in the southern hemisphere are enjoying longer, warmer days! But no matter where you live in the world, children everywhere have the same developmental needs, so I hope you find something useful in this newsletter!
This issue contains:
* A Gross Motor Tip
* A New Page On My Site
* A New Free Download On My Site
Gross Motor Tip
Does your child struggle to do cartwheels and handstands?

Build shoulder girdle strength and stability by letting them do "wall handstands" instead!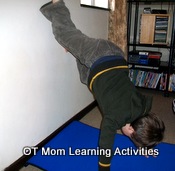 Here's how:
1) You need a mat or folded blanket on the floor near a wall, and an uncluttered stretch of wall (no windows or hanging pictures)
2) Have your child place hands on the mat and (clean!) feet on the floor near the wall.
3)Then have your child walk the feet up the wall as shown until a good handstand position is reached.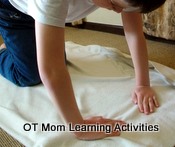 Ensure your child keeps elbows and hands in the optimal position, and don't let your child arch his/her back.
The picture on the left shows good hand and arm position. The hands are directly under the shoulders, elbows are slightly bent and the fingers are facing slightly inwards.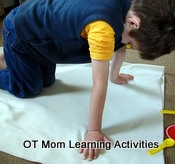 The picture on the right shows the poor position that many kids with poor shoulder girdle stability or low muscle tone would choose to use if we let them!

The elbows are rigid ("locked"), hands are spaced too far apart and fingers are pointing out to the side. Kids with poor shoulder girdle stability often "lock" their elbow into a rigid position in order to avoid taking weight through their shoulders properly.

So, if you see your child "locking" their elbows, gently help them position their hands and arms for more effective strengthening of their shoulder muscles.


New Page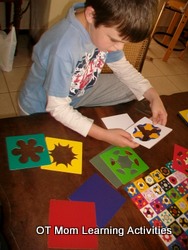 I was given a set of Kaleidograph to review and was very pleasantly surprised at how helpful it can be for older children who struggle with visual perception and planning skills.

I'm always looking for ways of helping older kids with their skills and this is definitely a hit with them!

You can read my kaleidograph review here.






Free Download
By popular request, I have made my article on midline crossing into a free downloadable PDF - this link will take you to the box on my page from whence you can download it:

Crossing The Midline Download

You can print this PDF and hand it out wherever it will help. If you want to link to it from your own blog, please use the link that I gave you - please do not link directly to the PDF itself.

Thank you for reading this and for supporting my site!
Yours in helping children be the best they can be,
Tracey
PS
On a more personal note…are you looking for Christmas Advent activities and crafts to do with your kids? Our family will be using Truth in the Tinsel for the third year, this year – it is by far the best advent lesson/activity book I have used. Although geared more for little ones, older ones enjoy it too.
If you are too busy to do the little crafts, you can download printable paper ornaments for your kids to cut and color instead. I review it at the top of this page … feel free to check it out.
Christmas Crafts - Advent E-Books