Playdough Activities
That Build Skills
(and a free mini e-book)
It seems like the whole world is stuck at home, and for those of you with young kids, it can be a really challenging time, especially if you are trying to keep them off the screens. My kids are older now, but when they were younger, playdough was a great hands-on entertainer.
But the best part of playdough, is that you can work on fine motor and bilateral coordination skills while giving your kids a really fun time.
I have put together a free mini e-book of all the playdough activities on my site, to help you work on hand strengthening, finger control and getting both hands to work together in a coordinated way.
You will get 6 pages of photographed activities plus my own favorite playdough recipe!
You will find the free printable near the bottom of this page of my site: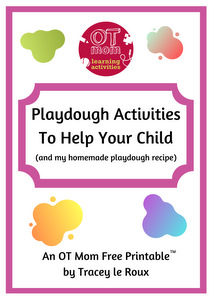 Playdough Activities That Build Skills

That's all for now – I hope it helps! May you and your families stay healthy and strong in the weeks ahead.
Please feel free to share the newsletter with anyone you think will benefit from the information.
All the best as you help the children in your life!
Tracey
Holding onto this verse for myself: Isaiah 26:3-4
You will keep in perfect peace those whose minds are steadfast, because they trust in you. Trust in the LORD forever, for the LORD, the LORD himself, is the Rock eternal.


---