Why Upper Body Strength Matters
(And a Heroes Heads Up!)
Did you know that your child's fine motor skills can be affected by their upper body strength – or lack thereof? When kids struggle with fine motor skills, one of the areas we assess is shoulder girdle stability.
When therapists talk about the shoulder girdle, we mean not just the shoulder joint, but the muscles around the front and back of the upper body. It is really important that the muscles of your child's shoulder girdle are strong in order to provide stability for fine motor tasks.
Good upper body strength and shoulder girdle stability will help your child to cut with scissors, to complete crafts, and to draw/color/write without getting tired or producing messy work.
Children should be encouraged to take part in activities that involve climbing, pushing, pulling, throwing and weight-bearing through their arms, in order to strengthen the upper body.
Need some ideas to get going? Take a look at my free shoulder exercises for kids and get inspired to do some of these simple exercises with your child before the holidays are finished!
It's also a great idea to use these ideas during homework breaks or a the beginning of the school day.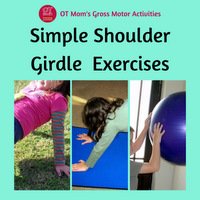 Simple Exercises To Strengthen Your Child's Shoulder Girdle


If you are wondering whether your child has poor shoulder girdle stability, check out this page, and contact your health professional if you are in any way concerned about your child's development.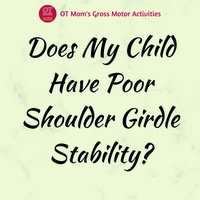 Does My Child Have Poor Shoulder Girdle Stability?


Handwriting Heroes!
Anyone who has been following my site for a while will know that I recommend Handwriting Heroes as an effective tool for teaching letter formations and preventing potential letter reversals!

In addition, following their carefully crafted program, it is possible to teach your child all the correct lower case letter formations in just 5 weeks!

I am beyond thrilled to let you know that you can now access the Handwriting Heroes digital workbooks directly from my site!

Whether you are a parent, a teacher or a therapist, you can view and purchase these inexpensive and highly effective digital workbooks here: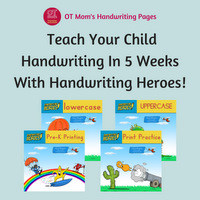 Please do feel free to share this email or webpages with anyone you think will benefit from information about shoulder girdle stability or Handwriting Heroes!
Thanks so much for joining me again this month! Keep healthy and strong!
Tracey
Living Life Abundantly!
John 10:10

This information and the suggested activities on my email and website are meant to promote your child's normal development. If you are at all concerned about your child's development, please consult your health professional. The information on my email and website is not intended to take the place of an occupational therapy evaluation and treatment!

---