How To REALLY Develop
Your Child's Fine Motor Skills!
Did you know that coloring and drawing are not the best way to develop good fine motor skills?
And that using touch screens and game consoles also don't really develop your child's fine motor skills, no matter what the advertiser says!
Over the years, I have often explained to parents and teachers that fine motor development is like a 4-legged stool.
When one leg of the stool is missing or weak, the stool will wobble and fall over. Each of the legs needs to be in place and strong, in order for the stool to be stable.
There are 4 underlying foundations that can help a child to develop good fine motor skills.
They are:
- Postural Stability
- Tactile Perception
- Hand Function
- Bilateral Coordination Skills
Have no idea what I am talking about? Don't worry!
In my article, I explain each of these foundations really simply, and then point you to the various sections of my website where you can get more information and photographed activity ideas – all free!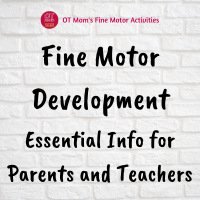 4 Essential Foundations for Good Fine Motor Skills



I hope you find this article to be helpful!
Please do feel free to share this email or webpage with anyone you think will benefit from learning more about fine motor development.
Thanks so much for joining me again this month! Keep healthy and strong!
Tracey
Living Life Abundantly!
John 10:10

---