Getting Fingers Into Action!
Having good pencil control may help your child form letters smoothly and more neatly during handwriting lessons.
Research has shown that handwriting is affected by whether the writer is able to use finger movements to control the pencil/pen.

If you have been reading my fine motor pages, you probably have come across my references to the "tripod fingers" – these are the three fingers (thumb, index and middle fingers) which are responsible for controlling the pencil.
A big part of fine motor development is developing finger movements, especially of the tripod fingers, along with hand strength and other hand skills.
Whether your child is in preschool, or starting high school, there are lots of really simple ways to get the fingers moving, with resources that you probably already have in your home and in your classroom.
Here are three pages on my site that are specifically dedicated to getting the fingers into action!

This first page contains simple activities to help young kids learn to get the tripod fingers working well together (older kids who struggle with fine motor skills may also benefit from doing these activities):
Finger Exercises for the Tripod Fingers

If your child needs help isolating finger movements in order to use a computer keyboard or to play a musical instrument, then you may find the exercises on the following page to be helpful:
Getting All The Fingers Moving

It really helps to get the fingers moving before tackling a handwriting lesson, or even to take a break from writing an essay or such – the activities on the following page can be done with a pencil and are therefore ideal for the classroom or during homework time: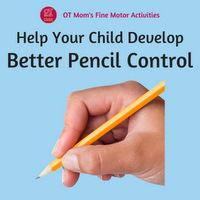 More Advanced Pencil Control Activities

(Links to the handwriting research are at the bottom of the Pencil Control Activities page.)
I hope you find these articles to be helpful - please do feel free to share with anyone you think may benefit from them!
Thanks so much for joining me again this month! Keep healthy and strong!
Tracey
Living Life Abundantly!
John 10:10

---