What Affects Your Child's Handwriting?
Did you know that there are lots of different factors that contribute to a child's handwriting ability? Many people think that it is just a matter of holding the pencil "correctly" or writing neatly on the lines, but in reality it is so much more than that.
Eye-hand coordination, spatial perception, visual perception and orthographic coding, all play a role in handwriting development, in addition to fine motor skills and visual-motor integration.
I have updated and revised a huge page on my site that explains 10 different factors that can affect your child's handwriting, with tips and activity suggestions to help you give your child the best possible start ahead of the new school year.
So pop on over and see what activities you can include in your child's summer vacation schedule, to promote optimum development of the skills needed for handwriting!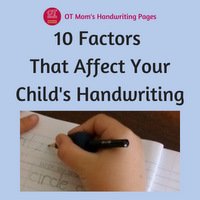 10 Factors That Affect Your Child's Handwriting


And, just a heads up – I extended my Summer Mega Motor Bundle promotion until midnight EST on June 25 2021– so you still have 1 day to get this awesome bundle at a 20% discount!
Pay just $20 instead of $25 for this bundle of 6 fine motor and gross motor e-books!
Please do feel free to share my newsletter with anyone you think will benefit from the information!
Thanks so much for joining me again this month! Keep healthy and strong!
Tracey
Living Life Abundantly!
John 10:10



---