Is Your Child A Dissectologist?
And no, I am not asking whether your child likes to cut things up!
A dissectologist is someone who enjoys doing jigsaw puzzles, and the word comes from doing the original wooden puzzles during the 19th century which were actually dissected maps!
So, to rephrase my question – does your child enjoy doing puzzles? And if not, why not? And does it matter, anyway?
It has always been a debate for me whether to include jigsaw puzzles in my therapy sessions, because when kids struggle with puzzles, they tend to have a bad attitude to them!
But because there are so many benefits to doing puzzles, I do think it is worth encouraging your children if they are reluctant dissectologists.
Completing a jigsaw puzzle requires you to use visual discrimination, figure-ground perception and visual closure skills, among others. So if your early elementary age child already struggles to complete mazes, word searches, dot pictures, search and find books, and matching games, they probably need to work on those skills first before they will feel competent at completing puzzles.
However, jigsaw puzzles can be a really good way for older children and teens to boost their visual perception skills, as they are not a babyish activity, and they can choose a picture that appeals to them. You can even frame a completed puzzle!
It does take some strategy and encouragement from parents, though, so I have put together a few tips and strategies that have worked for the reluctant dissectologist in my own family as well as in a therapy context.
You can read them here: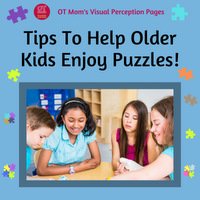 Tips and Strategies to Help Older Kids with Puzzles

If you have a preschool child who tends to avoid doing puzzles, why not take a look at the tips and activities I put together for doing puzzles with toddlers?
Although the page is aimed at parents of toddlers, the strategies and activities will work as an introduction to teaching puzzles to preschoolers, too.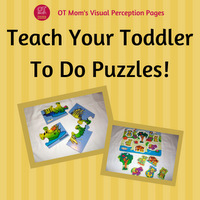 Tips and Strategies for Toddlers and Preschoolers


Please do feel free to share my newsletter with anyone you think will benefit from the information and articles!
Thanks so much for joining me again this month! Keep healthy and strong!
Tracey
Living Life Abundantly!
John 10:10




---