Visual Discrimination and
Letter Formations
Like I said when you signed up, this is an occasional newsletter! I do, however, apologize for the very long break since my last one. Anyone else here find that being stuck at home seems to gobble up more time than seems possible, just trying to stay on top of things? The last few months have just felt so crazy :(
But it is a new year, and a new search term is buzzing my website – so many people are searching for information on visual perception at the moment!
So I decided to make my next few newsletters focus on this important part of your child's development!
The Importance of
Visual Discrimination Skills
Do you ever feel like your kids miss small details? They may need more practice in visual discrimination skills.

Paying attention to detail, and being able to see subtle differences between objects, is vital for so many school skills.

In order to read and to form letters correctly, kids need to be able to tell the difference between letters that look similar. Handwritten letters are even trickier than printed letters, so if visual discrimination skills are poor, then your child may struggle to read a handwritten letter, or the teacher's written notes.

There are so many simple ways that we can help build kids' skills during the preschool and kindergarten years, in order to prepare them for reading and writing. You can use stuff you already have on hand!

So hop on over and read my page on visual discrimination activities that you can do at home – and there is a brand new section with some ideas to help older kids as well!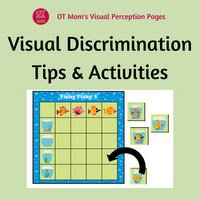 View Visual Discrimination Tips And Activities!


Letter Formation
Does your child struggle with letter formations? There are some fabulous downloadable resources created by another OT, and I highly recommend them, especially for kids in Kindergarten. If kids learn to form their letters the correct way, it can help to prevent a lot of later handwriting issues.

So if your child is learning to write letters for the first time, whether "just" their name, or in kindergarten classes, give these resources a try! You can use them with more than one child in your family or classroom, so they are worth it!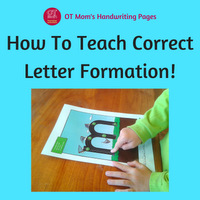 How To Teach Correct Letter Formation


I hope these tips help some of you! Please do pass the newsletter on to anyone you think may benefit from it, especially those with preschool and kindergarten kids who need some encouragement with visual perception skills.
Thanks so much for joining me again this month! Keep healthy and strong!
Tracey
Holding onto this verse for myself:
Isaiah 26:3-4
You will keep in perfect peace those whose minds are steadfast, because they trust in you. Trust in the LORD forever, for the LORD, the LORD himself, is the Rock eternal.




---