For Therapists
And Special Needs Educators!
I have no way of knowing who on my list is a therapist or special needs educator, so please do ignore this email if you are neither of these! (Or you could send it on to any therapists/educators you know!)
But if you ARE a pediatric occupational or physical therapist, or a special needs educator, or a student of either of these, then this one is for you!
All of us are struggling just to cope with the constant adjustments to therapy and teaching in this crazy time, and it is nearly impossible to stay on top of recent research, to make our own handouts and to create our own activities and worksheets.
Your Therapy Source has a monthly digital magazine which will save you precious time and enable you to stay up-to-date on relevant evidence-based research.
It provides handouts for you to give to teachers and parents and will give you effective activity ideas and printables that are all set for you to use with any kids you are seeing, whether you are working in-person or remotely.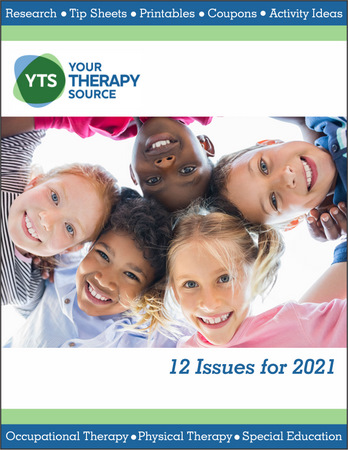 The magazine covers different topics each month, including fine motor skills, gross motor skills, visual perceptual skills, self-regulation, handwriting, and more!

As an affiliate, I got a sneak preview and I have already signed myself up for this year because it is just too good a resource to miss. I wish I had signed up last year, it would have saved me so much time and effort.
So, if you are interested, please check it out!

But don't wait too long. The window to subscribe closes at 11:59 EST on January 29, 2020 – that is THIS Friday!!

I am an affiliate for Your Therapy Source, so I do earn a commission on sales, but honestly, I would recommend this even if I were not an affiliate – the wealth of resources will help us all so much.

If you want to read my explanation of how this digital magazine works, read it here on my site.

Or go straight to Your Therapy Source to read their description and sign up right away!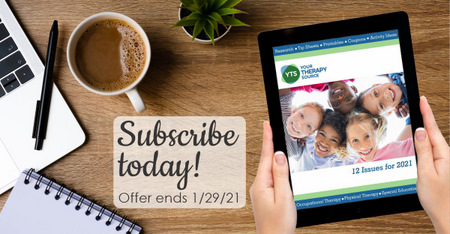 I hate being bombarded by sales pitch emails, so I am only sending out this one about the subscription. So I won't remind you again, I promise! (Just set a reminder to sign up before midnight EST on Friday!!)

And to the rest of my faithful readers, thank you for not unsubscribing if this email is not relevant to you!

However, if you do know any therapists, student therapists or special needs educators, please do send this email on to them.

The digital magazine will probably help them so much, especially in these crazy days when we need all the support we can get! It's only $29.99 for the year, which works out to less than $2.50 per month!

All the best,

Tracey

Holding onto this verse for myself: Isaiah 26:3-4
You will keep in perfect peace those whose minds are steadfast, because they trust in you. Trust in the LORD forever, for the LORD, the LORD himself, is the Rock eternal.



---