Chores With Benefits
Most of us are probably at home all day every day with our families at this time, so I felt that this topic would be relevant to many parents out there!
One of the things that struck me the most when we started homeschooling, was that there seemed to be more housework to do! My kids were now at home most of the day instead of being out most of the day, and as a result, there were more dishes in the sink and more dirt on the floor. Our chore chart was probably the first thing I drew up in those early homeschooling days!
One of the great things about chores, however, is that there are often additional benefits, and not just a tidier house!
There are so many opportunities to help boost your child's bilateral coordination skills or upper body strength through chores. Chores can also be a way of helping your child calm down or focus, owing to the proprioceptive input that heavy work can give.
My newest page shows how laundry chores, cleaning chores and pushing/pulling chores can give your child some added gross motor practice.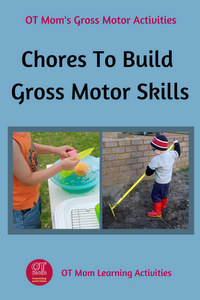 That's all for now – I hope it helps! May you and your families stay healthy and strong in the weeks ahead.
Please feel free to share the newsletter with anyone you think will benefit from the information.
All the best as you help the children in your life!
Tracey
Holding onto this verse for myself: Isaiah 26:3-4
You will keep in perfect peace those whose minds are steadfast, because they trust in you. Trust in the LORD forever, for the LORD, the LORD himself, is the Rock eternal.


---