Helping Kids Develop Better Pencil Control
(and free e-book upgrades)
It feels really odd to be sending out a newsletter when the world is holding its collective breath over the spread of the novel coronavirus, and I sincerely hope that none of you have been affected. I have friends in China who have been living severely restricted lives since mid-January, and my heart goes out to them and to others who are similarly impacted.
But if you are being forced to stay at home from work and your kids are staying home from school, now may be a great time to catch up on some fine motor and gross motor skills that your kids may be struggling with, so please do take the time to check out the various activity pages on my site.

There are lots of suggestions that are easy to implement at home, using resources that you probably already have on hand!
But the main reason for this newsletter is a heads up regarding a new page on my site.
Pencil Control Activities
If you have a child who has been working on fine motor skills but needs to practice getting better control over the actual pencil, then these simple tips and suggestions may be helpful as exercises to do before handwriting, or as a regular fine motor activity.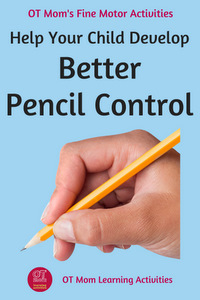 Check Out My Page Of Pencil Control Activities And Exercises!


Did You Receive Your
Free E-Book Upgrade?
If you purchased your OT Mom E-books before November 17 2019, you are eligible to upgrade your e-books to the revised and updated versions for free.

Everyone who made a purchase between January-November 2019 should have received an email with download links for the updated e-books. If you did not receive the email, or forgot to click on the links, just reply to this newsletter to let me know and we will manually activate them for you again.

But if you purchased before 2019, and wish to upgrade to the new ones, please reply to this newsletter with your name, the e-books purchased, and your invoice number. If you no longer have your invoice, you can send me the email address you used to make the purchase (and/or the surname of the person making the purchase if it is different to yours).

The original email address is particularly helpful in tracking down the transaction in our logs, as we cannot manually activate the download links for the upgraded e-books without finding the original transaction.

I really hope that you all enjoy the new look and feel of my e-books, as well as the additional activities, tips and references that were added!

That's all for now! May you and your families stay healthy and strong in the weeks ahead.

All the best as you help the children in your life!

Tracey

Colossians 3:23


---