Back to School Discount!
I know that many of my readers are gearing up for (or are already in) back-to-school mode in the northern hemisphere! I am writing this to give you a heads up that there is currently a back-to-school discount running on my site. 20% off my Mega Motor Bundle!
You can pay just $16 instead of $20 for all 5 fine motor and gross motor e-books plus the bonus cutting freebie.
Or you can get the Organisation version for just $48 instead of $60!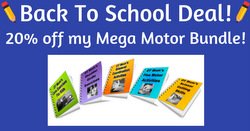 This discount is only available until midnight (EST) on Sunday 01 September 2019.
Simply enter the promo code backtoschool2019 at checkout, then click on "apply" to get your discount.
If you know anyone who wants to boost and support their child's gross motor and fine motor skills, then please do share the discount details with them! It's too good a deal to miss!
All my best,
Tracey