Correct Letter Formations Matter!
Learning to form letters correctly forms a big part of efficient handwriting.
Kids who have not learned to form letters consistently correctly, may be putting so much effort into remembering how to form the letters that they don't have the mental energy left for creative writing or correctly answering questions.
This is why I feel it is important to teach correct letter formations from the very beginning.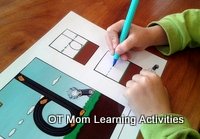 Once your child can write letters correctly, automatically, without thinking about them, he/she will be able to focus more on the actual learning process and on writing creatively!

In order to master the skill of forming letters properly, your child needs to have good visual perceptual skills, good fine motor skills, and good visual motor integration skills.

However, there are also some simple strategies and techniques you can use when teaching your child.

On my site, I cover 7 of the most valuable letter formation tips I have learnt as an occupational therapist and as a homeschool mom – and I've created a free printable to help you!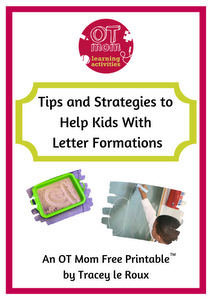 Tips and Strategies to Help Kids Form Letters Correctly

Please do pass this email on to anyone whose kids who are just learning their letters.
Let's help our kids form their letters correctly from the beginning, and give them a boost in their handwriting skills!
All the best as you help the children in your life!
Tracey
Colossians 3:23