Gross Motor Focus:
Exercises To Do In Class
(and a free printable!)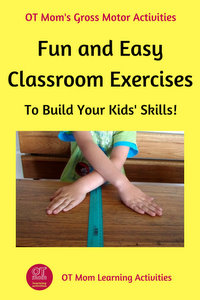 Welcome to the second in my series of emails with a Gross Motor Focus!

You may already be using some exercises in the classroom to help your kids focus better, but did you know there are two types of gross motor exercises that have been found to be especially beneficial?

Exercises that stimulate the vestibular system, and exercises which use both sides of the body in a coordinated way seem to be more effective than simply stretching and moving around a bit.

It can be hard to understand, but the vestibular system has an effect on other areas of a child's development, such as coordination and balance skills, calming down, becoming more organized and becoming more focused.

So we don't just want the body to jiggle and stretch a bit, we want the head to move. Jumping, spinning, rolling, bending over…these all get the head to change position, which stimulates the vestibular system.

Activities that involve bilateral coordination have been linked to improved academic performance. Some researchers suggest that coordination exercises facilitate the parts of the brain that are needed for thinking skills and for paying attention.

Kids who took part in highly focused bilateral activities, even for 5 minutes, showed improved attention, concentration and better focus on the task at hand, compared to students who did not take part. Some studies have also linked math, writing and reading abilities to bilateral coordination skills.


So it is definitely worth taking a quick 5-minute break between lessons to do some gross motor exercises that move both sides of the body in a coordinated way and/or exercises that get the head moving!

I have updated an older page on my site with references to the recent research that has been published

The page also contains new classroom exercise ideas, AND a brand new OT Mom Free Printable!

The free printable contains the vestibular and bilateral ideas from my page, as well as other gross motor exercises that can easily be done in a classroom or homeschool context. So hop on over to see the updates and download your awesome free printable!
Classroom Gross Motor Exercises (and a free printable!)

Important! Some children are over-sensitive to vestibular stimulation, even during simple activities like these. If a child becomes fearful, nauseous, pale or sweaty during exercise time, please stop immediately and consult a health professional! Have fun building skills with your child this summer!
Thanks for reading and for signing up for my newsletters!
Please feel free to share the newsletter and pages with anyone you think will benefit from the information. Be blessed as you help the children in your life!
Kind regards,
Tracey
Living Life Abundantly! (John 10:10)