Why do we see so many postural problems?
by Joan
(USA)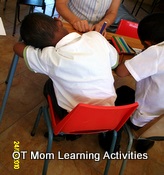 (OT Mom added this pic of a child with poor posture)
I am a teacher and your articles, particularly the essential bases for fine motor development helped clarify for me just which gross motor skills support fine motor development - I have been speculating about why I see so many postural problems, tucking in of elbows, and odd compensations such as hooking one's arms over the back of a chair while sitting.

Is it just that children are not getting outdoors - or that they are raised in a series of containers? It seems so simplistic. I suspect that there is also the fact that in suburban America parents are rarely comfortable allowing their children out unsupervised, even in their back yards. So there is no free play, running around climbing a tree, or pulling your baby brother in a wagon (I've been thinking particularly about the shoulder girdle problem). Instead they are walking with mom on a
sidewalk. Perhaps they are not crawling?

What do you think?

Was this page helpful?
Please like my page and let your friends know!
Didn't find what you were looking for? Then do a search on my site!

Get your Christmas Bonus Deal!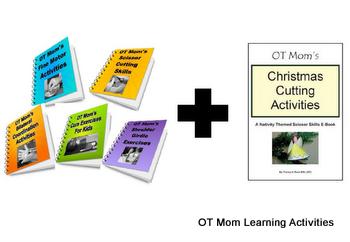 Get 15% Discount on the Mega Motor Bundle
PLUS
A free copy of Christmas Cutting Activities (worth $3.50).
Just enter the coupon code below at check-out to get your discount with the free e-book!

Christmas2017
Don't forget to "update cart" after adding the discount code!
View the deal here... or read a description of all my e-books first.
Offer ends on 31 Dec 2017.