(For OT Mom's E-Books)

Was this page helpful?
Please like my page and let your friends know!

 Christmas Bonus Deal!
15% Off PLUS a free e-book!
Get 15% Discount on the Mega Motor Bundle PLUS a free copy of Christmas Cutting Activities (worth $3.50).

Just enter the coupon code below at check-out to get your discount with the free e-book!
Christmas2017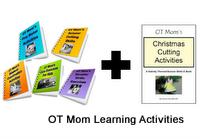 Don't forget to "update cart" after adding the discount code!

View the deal here... or read a description of all my e-books first.
Offer ends on 31 Dec 2017.