Parent Support
Welcome to our free Parent Support where you can be encouraged by other parents and share your story if you need support!
Because no one understands you better than another parent...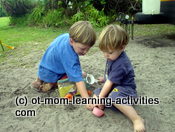 We all imagine parenthood to be full of happy, treasured moments!
But the reality is that watching your children struggle with something is frustrating and heart-rending!
We all need a shoulder to cry on sometimes, or an opportunity to learn from what others have gone through!
Parent Support has been designed to offer you, the parent, encouragement in your journey to help your child be the best he or she can be.
If you would like to help another parent, please feel free to post some encouragement or advice! If you have been encouraged in these pages, please "pay it forward" and encourage someone else!
Choose one of the categories below to ask your question or share your experience. As the site grows, we will offer specific support pages on other topics, but if there is a particular experience you would like to share, or a situation on which you need advice, then add your comment or topic to the form on this page.
I look forward to hearing from you!
What Other Parents Have Said:
Click below to read the experiences, encouragement and advice of other parents ...
Return from Parent Support to
Home Page of OT Mom Learning Activities