Paper Angel Craft

This simple paper angel craft will help your child practice cutting out circles. Use the free downloadable template to help your child create large and small angels for the Christmas tree or for pretty table decorations.
Although your child will be decorating and cutting out the angels, adult guidance may be needed in assembling the angels, according to your child's ability. Not suitable for little ones owing to the beads and scissors used.
You will need: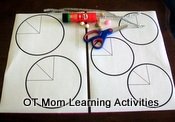 Angel templates printed on white cardstock
scissors for your child
glue/paste
A small piece of chenille stick/pipe cleaner for each angel (I used a quarter of a stick per angel)

A bead suitable for the head of each angel

Optional:

crayons, glitter or anything else to decorate the angels.
a bell to hang inside the angel
Instructions for the paper angel craft:

Step 1:
It is optional to decorate the circles, but my kids loved it. Plain white angels are equally attractive!

Once they are decorated, have your child cut out the circles and then cut out the wings on the light lines.
You may need to help younger kids. View this page for tips on teaching your child to cut with scissors.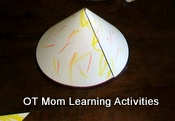 Step 2:
Apply glue to one of the cut edges as shown.
Fold one cut edge over the glued cut edge. The body of the angel will look like this, with a tiny hole at the top.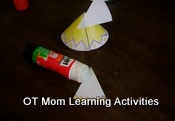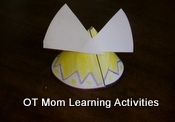 Step 3:
Glue the wings to the body.
You need to apply the glue to the decorated side and apply the wings so the decorated sides face forwards.
Step 4:
Cut the chenille stick into quarters, and use one quarter per angel.
Thread the chenille stick through the neck hole, from inside the "skirt".
Make a loop to stop the stick from passing right through, or attach a little bell at the end.
Pull the rest of the chenille stick through at the top.
---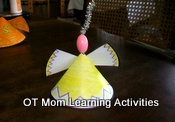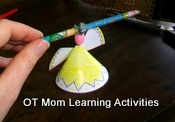 Step 5:
Thread a bead onto the head. Look for beads from broken necklaces, or wooden beads with painted faces from craft shops.
Wrap the chenille stick around a pencil to make a loop and smush it onto the angel's head for a halo effect.
It's fine if a bit of stick pokes out - use it to hang the angel on the tree.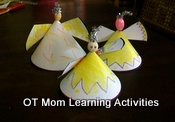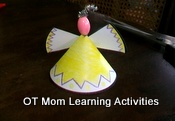 The finished angels. So sweet, and by far the easiest paper angels I have made with or without my kids!

"Suddenly a great company of the heavenly host appeared with the angel, praising God and saying,
"Glory to God in the highest, and on earth peace to men on whom his favor rests."
Luke 2:13, 14

More Christmas Cutting Activities:

Click on the images to view more activities to give your child lots of practice with cutting!

This activity is one of 12 different activities you can find in my Christmas Scissor Cutting E-Book - lots of photographed instructions and templates for each activity! Check it out!

Thank you for visiting my site!

Why not sign up for OT Mom Activity Updates - my occasional newsletter to keep you in touch with the latest additions to my site?
20% Off!

Summer Activities Sale!

Summer vacation provides lots of opportunities to work on your child's gross and fine motor skills.
Get 20% off any OT Mom E-Book Products when you use this discount code at checkout!
summer2017
Don't forget to "update cart" after adding the discount code!
View a description of all my e-books here and don't forget to check out the Bundle Deals.
You can apply the discount code to individual e-books and/or to bundle deals!
Offer ends on 30 June 2017.

Was this page helpful?
Please like my page and let your friends know!
Didn't find what you were looking for? Then do a search on my site!