Is it okay to use markers instead of pencils?
by Concerned Mom
My son (5 years old) has Sensory Processing Disorder as well as a variety of fine motor and gross motor difficulties.

We do a lot of hand/finger strengthening exercises, but his pencil grip is still so loose that he cannot control the pencil well enough to work on writing.

It "feels" like letting him use a marker would be cheating, but it would really allow him to not have to press down on the paper so hard. I think this might boost his morale a bit. Then again, I don't want him to always have to use a marker and never be able to press hard enough to use a pencil, you know?

I'd love to hear your thoughts.
Was this page helpful?
Please like my page and let your friends know!
Didn't find what you were looking for? Then do a search on my site!

Get your Christmas Bonus Deal!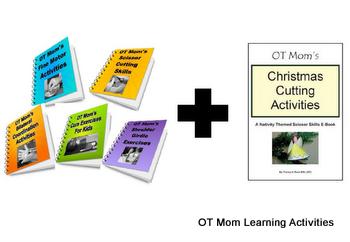 Get 15% Discount on the Mega Motor Bundle
PLUS
A free copy of Christmas Cutting Activities (worth $3.50).
Just enter the coupon code below at check-out to get your discount with the free e-book!

Christmas2017
Don't forget to "update cart" after adding the discount code!
View the deal here... or read a description of all my e-books first.
Offer ends on 31 Dec 2017.