How I helped my child who was switching hands
by Marissa
(Edinburgh)
My child was also switching hands quite a bit. So I made a rule that she had to finish a task with the hand she started with. She soon figured out which hand was her best hand (her right hand) and began completing her tasks with the same hand - no more switching hands!
Join in and write your own page! It's easy to do. How? Simply click here to return to General feedback/tips.
Was this page helpful?
Please like my page and let your friends know!
Didn't find what you were looking for? Then do a search on my site!

Get your Christmas Bonus Deal!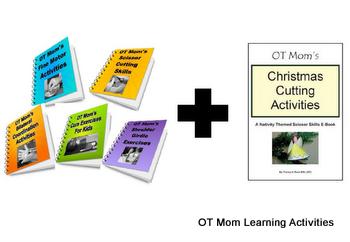 Get 15% Discount on the Mega Motor Bundle
PLUS
A free copy of Christmas Cutting Activities (worth $3.50).
Just enter the coupon code below at check-out to get your discount with the free e-book!

Christmas2017
Don't forget to "update cart" after adding the discount code!
View the deal here... or read a description of all my e-books first.
Offer ends on 31 Dec 2017.