Christmas Paper Lanterns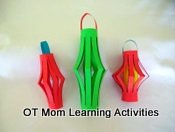 These Christmas paper lanterns will give your child some practice at cutting on lines. Some adult help is needed in assembling the lanterns.
You will need:

Scissors (for your child)
Glue or stapler for you
Painted toilet roll inner if you want to have a yellow "light" inside.
Cutting lines printed on cardstock from this free template. Choose the size of your lantern (see pic at top of this page) and then print just that page.

Page 1 will make the large lantern pictured in the center. (2 on each page)
Page 2 will give you 4 of the small paper lanterns on the left.
Page 3 will give you 2 of the lanterns on the right with a light inside.
Instructions:

Step 1:

First separate the sets of lines on the page, then fold them as shown, ACROSS the length of the cutting lines.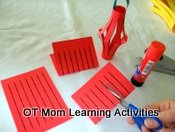 Step 2:

Have your child cut out along the lines.
Start at the fold and cut until the line ends.

You will need to supervise younger children so they stop at the end of the black line.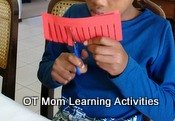 If your child struggles with scissor cutting, try the tips on this page or my Scissor Skills e-book.
Step 3:

Unfold the paper, and curl it in the opposite direction as shown.
Fasten the top and bottom ends (with paste, sellotape or glue).
Add a strip of scrap paper to make the handles.
Lanterns with "light" inside:

To make the lanterns with a yellow "light" inside, first paint the toilet roll inner yellow, or wrap with yellow paper.
Use page 3 of the template and have your child cut out along the lines as described above.

Wrap the cut paper around the inner roll and fasten it so the paper sticks out a little over both ends as shown. Attach a handle.

Optional: Pop some cotton wool in the bottom to make a plug and place some sweets on top!
"The people walking in darkness have seen a great light"
Isaiah 9:2
Jesus said, "I am the light of the world. Whoever follows me will never walk in darkness but will have the light of life"
John 8:12

Thank you for visiting my site!

Have you tried some of the other Christmas cutting activities on my site? Click on the images below to see the pages.

Why not sign up for OT Mom Activity Updates - my occasional newsletter to keep you in touch with the latest additions to my site?
Was this page helpful?
Please like my page and let your friends know!
Didn't find what you were looking for? Then do a search on my site!