Christmas Paper Decorations

These Christmas paper decorations are a great Christmas cutting activity - your child will get lots of practice cutting on straight lines!

Some adult help is needed to staple the decorations together.
You will need: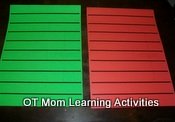 Instructions:

Step 1:

Let your child cut out along the lines.
(Cutting out lots of lines is a good way to develop scissor skills)

Cut off the sections to be discarded (clearly marked on the PDF) so your strips are the required length.
I alternated colors in each ornament.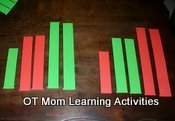 Step 2:

Layer the strips so the shortest is in the center, and the longest on the outside, as shown.
Align the edges.
Staple the ends together.

Step 3 for a "ball" ornament:

Grasp the other side of the strips, and align the edges of the longer strips with the shortest strip.

Staple together.
I think the alternating colors are pretty!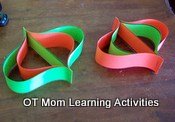 Step 3 for a "heart" ornament:

Align the edges of the two longer strips on each side, and staple together.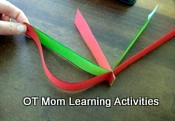 Your decoration will look like this. The short strip in the center is on its own, while the two longer strips have been stapled together.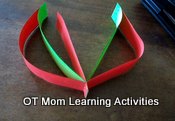 Bend the outer strips inwardly and staple them to the shortest strip.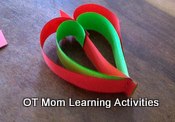 Snip off the top edge of the shortest strip which is still sticking out, and then thread thin cotton through to hand the ornament.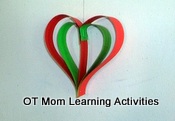 This is a bit awkward initially, and it takes a bit of maneuvering of the strips until you are happy with the dimensions of the heart.
"Glory to God in the highest,
and on earth peace to men on whom His favor rests."
Luke 2:14

If your child struggles with cutting:

More Christmas Paper Decorations:

Thank you for visiting my site!

Why not sign up for OT Mom Activity Updates - my occasional newsletter to keep you in touch with the latest additions to my site?
Was this page helpful?
Please like my page and let your friends know!
Didn't find what you were looking for? Then do a search on my site!